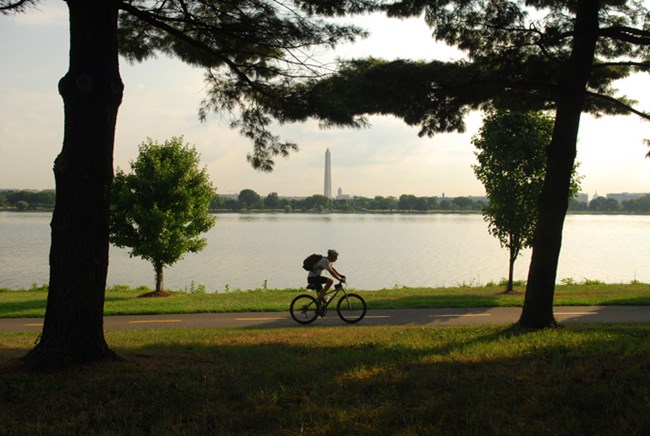 Are you looking to extend your adventure? The Chesapeake and Ohio Canal Towpath makes up the backbone of the
Potomac Heritage National Scenic Trail
. Various Trail segments connect with the Towpath to span a 425-mile corridor between the mouth of the Potomac River and the Allegheny Highlands in western Pennsylvania. Start your adventure on the Towpath, then go farther on the Potomac Heritage Trail!
Authorized by Congress in 1983, the Potomac Heritage Trail is an expanding network of trails connected to the stories of the exploration and exploitation of the Potomac River corridor and upper Ohio River Basin. Many stories begin with George Washington, whose travels through the region are legendary.
Connect to the Mount Vernon Trail, and visit Washington's riverside Mount Vernon estate, where he foresaw the Potomac's commercial potential.
Use the Potomac Heritage Trail to visit Great Falls, Virginia, where Washington's Patowmack Canal tamed the Great Falls of the Potomac and later energized the construction of the Chesapeake and Ohio Canal by the mid-1800s.
Travel the Great Allegheny Passage and follow the path of steam-powered locomotives to Pittsburgh. Railroads, though unknown in Washington's day, would ultimately establish a direct link to the Ohio River Valley.
The C&O Canal and its associated lands and features were later preserved by the Federal Government, and many of the adjacent railroad lines have been converted to hiking and biking trails, contributing to the development of the Potomac Heritage Trail network. Take a look at the maps page for the trail and see how much farther you can go!
Today, the National Scenic Trail is administered by the National Park Service through extensive partnerships with and among government agencies, non-profit organizations and volunteers. The Trail and its partners also contribute to local conservation and heritage tourism opportunities. The 184.5-mile Chesapeake and Ohio Canal Towpath, however, is the longest continuous segment in the network, and a place from which you can extend your adventure.