Phone Tour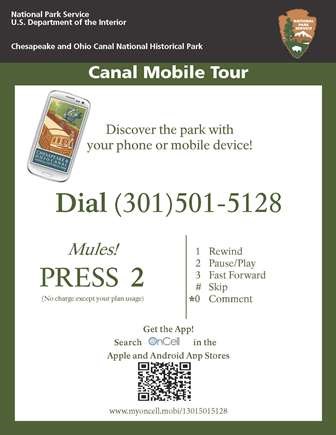 Your phone provides a fun way to learn more about the Chesapeake and Ohio Canal National Historical Park!
What to do:
Look for the Mobile Tour signs while visiting the park

Dial 301-501-5128

Enter the stop number.

There is no additional charge to listen to these narratives.

Please be aware that cell phone coverage at the C&O Canal can be spotty.

Access through the Mobile App and be alerted when you are nearby to a stop!

Visit National Park Service Tours provided by Oncell in the Android and iPhone App stores to see more content, pictures and links
Visit the OnCell C&O Canal website to see stop listings, photos and more information!
Last updated: May 6, 2018