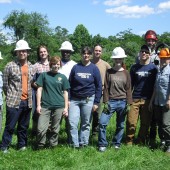 Parks offer living classroom with lessons in history and natural sciences for anyone who wishes to participate. By involving youth in discovery activities in our National Parks, the Chesapeake and Ohio Canal National Historical Park hopes to ignite the fire of curiosity kindling within the next generation.We will expose youth to exciting scientific experiences including the hands-on water quality monitoring experiments, collection of macro invertebrates for stream health studies, and invasive species removal. Engaging students in the stewardship of our resources is a great way to improve natural resource conservation and to foster a sense of ownership of public lands. Several hands on activities have motivated students to take action to pursue improved conditions for these resources.
In partnership with Bridging the Watershed, the C&O Canal features curriculum-based education programming focused on middle and high school environmental education in various locations throughout the park. In Allegany County, all 6th graders experience a week-long Outdoor School through a partnership between the National Park Service, Rocky Gap State Park, Bridging the Watershed and Allegany County Public Schools. During this week-long immersion, students are encouraged through research based activities and active learning to become scientists and explore the park through a variety of modules focused on resource protection, stewardship and conservation. Learning is fun, student-driven and allows youth to form an in-depth understanding of the world around them.
Additionally, the C&O Canal has employed several student interns tasked with providing solid, scientific support in various areas including hydrology, paleontology, and botany. These investigations have provided critical information regarding the condition of park resources. Participants have indicated they were provided expert guidance and many have decided to pursue a career with the National Park Service as a direct result of their internship experience.
With support from the National Park Foundation's Park Stewards Grant, Chesapeake and Ohio Canal NHP partnered with the three public high schools in Allegany County, Maryland to create videos about the park featuring three distinct park locations in Allegany County. The students conducted site visits, researched the history and natural resources of the area, and created videos to interpret the park stories to their peers. Through the project they learned about the National Park Service, the national park in their backyard, and are an encouragement to others to be the next generation of stewards.