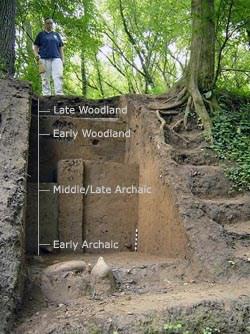 Stratified Prehistoric Archeological sites in C&O Canal NHP
Discovering deeply buried archeological sites requires careful planning and special techniques. Testing to a depth of 11 feet in selected areas along the floodplain of the Potomac Riversucceeded in finding 16 new sites in the C & O Canal National Historical Park. Archeologists selected 2 sites for further exploration and made some exciting and significant discoveries. As with many sites, erosion presents a serious threat to these endangered sites.
From 2003 through 2005, the Cultural Resource Group of the Louis Berger Group, under contract to the NPS, National Capital Region, carried out a program to identify and evaluate archeological resources within the lower 59-mile segment of the C&O Canal NHP that extends along the Potomac River from Georgetown to Sandy Hook, just east of Harpers Ferry, WV. This work implements the Systemwide Archeological Inventory Program for the park.
A primary research goal was to identify deeply stratified prehistoric sites on the floodplains of the Potomac dating prior to 4,000 BP, the Terminal Archaic. Few deeply stratified sites have been identified along the river, but surface finds of fluted points and later Archaic artifacts in the watershed demonstrate a continuous human presence in the region since 13,000 cal BP and suggest that intact, buried Early Archaic or even Paleoindian sites might be preserved in the right circumstances.
Unlike the ubiquitous shallow plow zone sites in piedmont uplands in the Middle Atlantic region, where cultural remains from the past 13,000 years are inextricably jumbled together, intact sites along the Potomac that are not damaged by erosion episodes are expected to display "layer cake" stratigraphy, in which sterile river-laid sediments separate and seal discrete cultural levels. This depositional regime that deeply buried the remains of early camps and villages has also protected them from disturbance either by later prehistoric inhabitants or by historic and recent farmers. It is imperative that we find and investigate such sites, "since that is where the answers lie to the problems of early cultural developments in the eastern United States" (Coe 1964).
Sampling and Predicting Modeling
The project utilized geoarcheological augering to test 12 locations along the 59 mile stretch of the Potomac River. Using a 3-inch auger, Berger's geoarchaeological consultant Dr. Dan Wagner was able to sample alluvial deposits to a depth of about 11 feet.
The 12 locations for geoarcheological testing were chosen with the assistance of a predictive model developed from Joffre Coe's pioneering research in the RoanokeRiver basin in southern Virginia (Coe 1964). Coe predicted that, in Fall Zone river valleys, early Holocene sites would be found at locations with specific characteristics:
1. a narrow valley forming a funnel neck with limited space for a campsite;
2. a narrow and rocky valley, where the high velocity of the water prevented the development of mature meander patterns; and
3. Fingers of resistant rock extending from the valley wall to the edge of the river. Behind these projecting rocks, the river forms large eddies when it is in flood and deposits sand and silt at a faster rate than elsewhere along the narrow flood plains. Eventually these deposits become higher than the normal flood level.
Coe also observed that deep alluvial deposits containing stratified sites may occur where a river confluence, located just above the narrowest point in the valley, creates eddies. Michael Stewart (1991:100), similarly, attributed the preservation of the Paleoindian zone at the Shawnee-Minisink site in Pennsylvania to "...slackwater deposition as a result of the hydraulic dam effect common at stream junctions..." where "...the velocity of a tributary stream with a low to moderate gradient is slowed dramatically when it junctions with the river in flood, moving at a greater velocity. This decrease in energy causes the tributary to dump its sediment load."
Using a model based on Coe's observations, 14 extensive floodplains along the Potomac River were chosen for geoarchaeological reconnaissance through examination of USGS topographic maps. Selection of particular locations for auger tests was aided by very detailed maps drawn for the US Army in 1865 that are currently held by the Library of Congress. These showed small tributary streams which are not depicted on the modern maps.
Survey Results
A total of 12 floodplains were tested, with 23 auger tests. Seventeen of these tests produced stratigraphic sequences with multiple buried A-horizons that indicate the past availability of stable surfaces for human occupation. Only one of the 12 tested floodplains had no buried A-horizons. In 13 of the 23 auger tests, charcoal was recovered or fire-cracked rock was encountered that provided unambiguous evidence of human occupation. Based upon degree of soil weathering the deepest A-horizons in four floodplains date from the Early to Middle Holocene; three are Middle Holocene; one is Mid- to Late Holocene, and two date from the Late Holocene.
As predicted by the model, these stratified sites have generally been found where smaller streams flow into the Potomac. At seven such confluences, inspection of bank exposures where the meandering tributary streams continue to eat away the old levees and alluvial fans confirmed that cultural deposits were associated with the buried surfaces. Two of the floodplains were chosen for excavation. Stepped excavation of stream cutbanks proved to be an expedient approach to sampling the deep cultural deposits at 18MO572 and 18FR798.