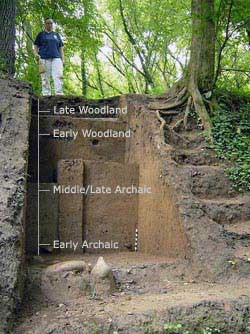 Discovering deeply buried archeological sites requires careful planning and special techniques. Archaeologists have succeeded in finding 16 sites in the C & O Canal National Historical Park. Archeologists selected 2 sites for further exploration and made some exciting and significant discoveries.

In the many shallow plow zone sites in piedmont uplands in the Middle Atlantic region, cultural remains from the past 13,000 years jumbled together. Intact sites along the Potomac that are not damaged by erosion contain protected remains of early camps and villages from disturbance either by later prehistoric inhabitants or by historic and recent farmers. Based upon degree of soil weathering the deepest A-horizons in four floodplains date from the Early to Middle Holocene.

Through testing and surveys, archaiologists identify sites within the park. Knowing the location of these sites helps park staff protect against looting or destruction from proposed developments. However, the same erosional processes that have exposed the bank cuts and allowed access to the deepest occupation zones threaten to destroy these sites in the not too distant future. The National Historic Preservation Act and the 1916 Organic Act mandate that the park take steps to preserve these sites.