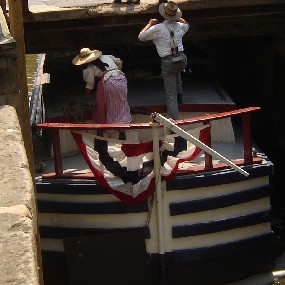 Many famous people were associated with the C&O Canal. Their names are easily recognized. However, most people involved with the canal were common laborers and families. Many of their names are now lost to history, but their legacy continues to live in the form of NPS interpretive living history programs and the historic structures of the Chesapeake and Ohio Canal National Historical Park.
The diversity of people and jobs on the canal was significant. The canal became a new home for people looking for work and a chance at a new way of life. Employment opportunities for different ethnic groups would have been available. They might include:
Women on the Canal
African-Americans
Native Americans
Construction Laborers
Whether you were man or woman, boy or girl, the canal was not a respector of persons. Everyone had to work the same jobs to allow a family to make a living and survive.