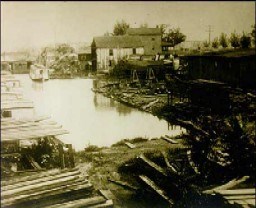 This photo shows the C & O Canal boatyard in Cumberland. On the right, a new boat is being built; in the foreground, processed lumber is stacked in preparation for new construction; and the boats in berths in the background may be for sale or may be in storage after undergoing repairs.
Questions for Photo 3
1.Why is a boatyard necessary for the canal to be effective?
2.Where along the canal do you think would be the best place to locate a boatyard? Why?