Ride the Mercer: Secondary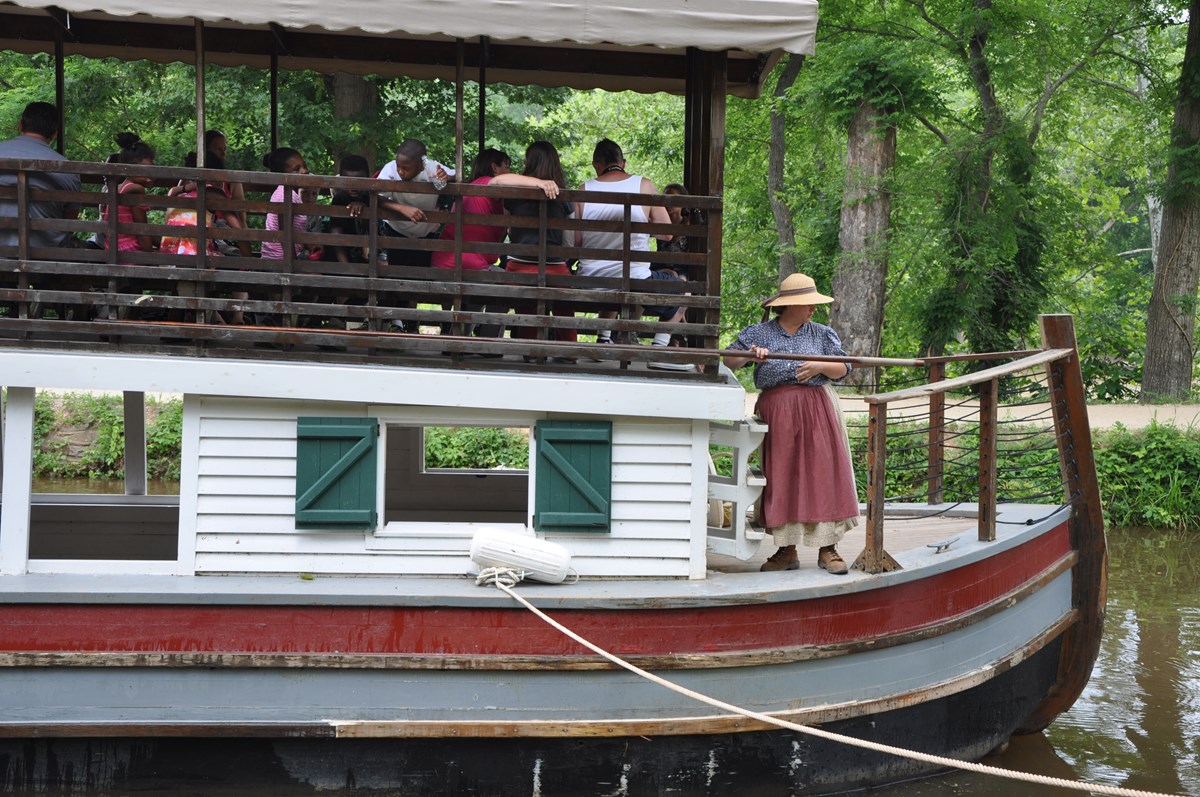 Ride the Mercer: Secondary
Description
Students will explore the history, life on Canal, and engineering of the C&O Canal through first-hand experience and living history demonstrations. Students will differentiate between man-made and human features and how they affect the environment, compare the past and present to understand what life was like for a people on the C&O Canal, and explore the function and design of technology from the past using primary sources.Students will ride along the historic C&O Canal in a mule-drawn canal boat and will experience rising 8 feet in a lock. They will be able to describe what life was like for the families that lived and worked on the canal through the analysis of primary sources. At the end of the activity, students will be able to: Describe social and economic life on the canal in the 1800s. Analyze the challenges of traveling along the canal using primary sources. The park has partnered with Montgomery County (Maryland) Public Schools to develop this field trip day along with pre- and post-visit activities for your classroom. Completing the classroom activities will enhance student learning. The lessons include a mapping project, a critical thinking activity, a reader's theater, and several math and estimation activities. If you would like more information or to obtain these materials, email us.
Location: Great Falls Tavern and Lock 20
Length: 1 hour
Cost: $5 per person for boat ride
Activity Itinerary
All passengers will board the boat and take their seats. A safety message from the Ranger will follow. Six students will be chosen at random and assigned quote cards, each with a quote about canal life that pertains to the boat ride. They will be called on periodically throughout the trip to read their quote and discuss how it relates to life on the canal. The boat will enter the lock, rise up, and continue down the canal. The Ranger will explain how the lock works, and why it is important to the operation of the canal. The boat will travel up the canal about half a mile, turn around, go back through the lock, and then back to the dock. Throughout the boat ride, the Ranger will be discussing the role of transportation, technology, and communication in the history of the C&O Canal.
Plan Your Visit
A Plan your Visit Guide including your itinerary, pre- and post-visit activity worksheets, vocabulary, and safety reminders is available if you want more information. To get a Plan your Visit Guide or to schedule a field trip, email us.
Contact
Canal Classrooms Rangers
Email us
.
301-714-2213
Last updated: January 4, 2018