Lesson Plan
C&O Canal Reader's Theater: grade 4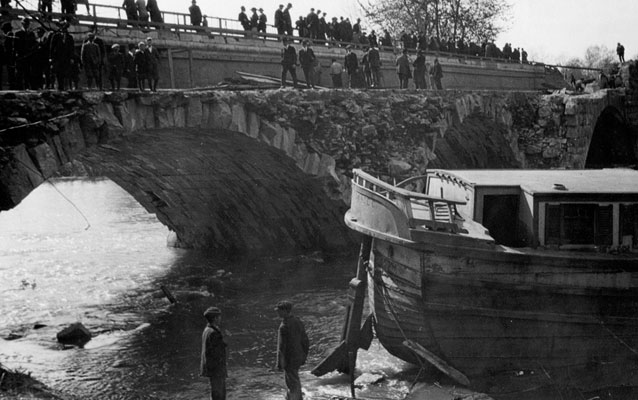 Grade Level:

Fourth Grade

Subject:

History, Performing Arts, Reading, Theatre

Duration:

20 minutes

Group Size:

8 or fewer

Setting:

classroom

National/State Standards:

Common Core English Language Arts
Speaking and Listening: SL.4.4
Overview
Use this lesson as a stand-alone classroom activity or as post-field trip activity. Students will use our script and slide show to retell the story of Captain Meyers and the day his boat ended up in the Conococheague Creek after the aqueduct wall failed.
Objective(s)
Students will be able to:
1) Report to the class about a specific story using visual displays,
2) Practice using appropriate facts, providing descriptive details, and speaking clearly.
Background
Captain Meyers was an experienced canal boat captain who regularly hauled 200 tons of coal in his cargo boat on the C&O Canal. On April 20, 1920 he returned to the Cushwa Basin in Williamsport, Maryland, with a load of coal from Cumberland. After the boat was unloaded, he started back up the canal to get another load. His boat and mule team entered the stone aqueduct near the Cushwa Basin when it gave way. Captain Meyers, his crew, and his mules survived, but his boat ended up in the Conococheague Creek below. And then for the next 24 hours, water from the canal poured out of the breech, stranding boats up stream for weeks.
Materials
The materials consist of a script and a slide show.
Procedure
1) Download the slide show to be used after the reading,
2) Print the script for each student. There are five parts (Narrator 1, Narrator 2, Captain Meyers, Joseph Davis, and David Cushwa),
3) Assign a reading part to each student; ask the group to read the script and practice their presentation, developing character voices, adding movement, and using props,
4) Assign two more students to look at the slide show and prepare to present these to the class after the dramatic reading. 
Assessment
Student readers should be able to portray their characters through voice inflection, props, and actions.
Students should be able to retell the story without the script, touching on pertinent details and establishing the setting.
Park Connections
Students coming to the Williamsport Visitor Center at the Cushwa Basin will see the Conococheague Creek Aqueduct and the Cushwa Warehouse. 
Extensions
Ask the class to write their own script about one of their bad days. What is the setting? Who are the characters?
Students can use their own photographs to illustrate a play about an event in their life--a trip to a park or a birthday or another memorable event.
STEM extension: What is an aqueduct? How does it work? Search for images of Roman aqueducts in Europe. Have the students build their own aqueduct.
Vocabulary
canal, towpath, aqueduct, mule
Last updated: January 29, 2018