Field Trips
The C&O Canal and Me: I Taste, Touch, Hear, Smell, and See (PreK Cumberland, Maryland)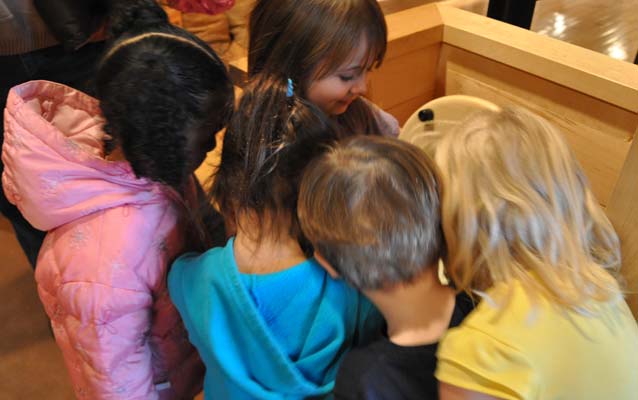 Description
Students will use their five senses as they walk back through time in the Canal Museum, learning about the construction and operation of the Chesapeake & Ohio Canal. Students will participate in time games and activities. Students will actively explore canal operations through play with canal construction sets and boat design.
At the end of the activity, students should be able to
Describe components of canal operations and canal life using their five senses,
Students can describe lives of canal children and families, using their five senses, and
Distinguish among past and present ideas.  
The park partnered with Allegany County Public Schools to develop this field trip along with pre- and post-visit activities for your classroom. Completing the classroom activities will enhance student learning. The lessons include a canal orientation, a writing/drawing activity, and a senses chart (links below). 
Field Trip Itinerary
There are many indoor and outdoor activities at Cumberland's Canal Place for pre-kindergarteners to explore life on the canal through their five senses. 
Welcome (10 minutes)
Children will meet the ranger by Daisy the Mule to explore the plaza. We will ask: "What do you see, hear, smell, and feel?" They will be assigned into smaller groups for later activities.  
Canal Museum and Games (40 minutes)
At the museum, they will explore with their senses through touch, smell, sight, and sound. They will complete an "eye-spy" activity. Outside, we will play an old-fashion game called "Hoop and Stick." 
Canal Classroom Fun (40 minutes)
Students will have an opportunity to use their senses to investigate canal operation, design and construct boats, and experience canal children activities. Students will move through three stations in their small groups for approximately 10 minutes each. 
Closing Activity (15 Minutes)
Students will share what they have learned and be sworn-in as C&O Canal Junior Rangers.
Pre-Visit Activities
Use these classroom activities to orient the children to the canal.
Option A (recommended): Illustrated Presentation. Share an illustrated presentation with your students about Life on the Canal. 

Available for download as a 

Power Point

 or 

PDF.
Option B: Color. Have students color the

 

drawing of the canal boat

.
For a primer on the canal for you (and your students), visit our website or 
make Canal Discoveries
at the website of our park's official partner, the C&O Canal Trust.
Post-Visit Activities


Two activity sheets allow students to reflect on their field trip to the C&O Canal. Choose one or both and ask students to work individually or complete these as a group. 


Reflection Sheet 1: Drawing. Ask the students to reflect on their field trip activities and draw a picture of something they experienced through sight, sound, smell, and taste. 
Reflection Sheet 2: Chart. Create a "Senses" Chart to summarize their field trip experience.
Plan Your Visit


Print the 
Plan Your Visit Guide
 for more information, including: your itinerary, pre and post visit activity worksheets, vocabulary, and safety reminders. To schedule a field trip,
e-mail us
.
Contact
Canal Classrooms Rangers
301-714-2213
Details
Subject:

Family Life, History, Science and Technology

National/State Standards:

Common Core English Language Arts, Writing (W3) and Speaking and Listening (SL.5)
STEM Practice 2. A and 5.C 

type:

Field Trips