Field Trips
Home on the C&O Canal: Past and Present (Kindergarten, Cumberland, Maryland)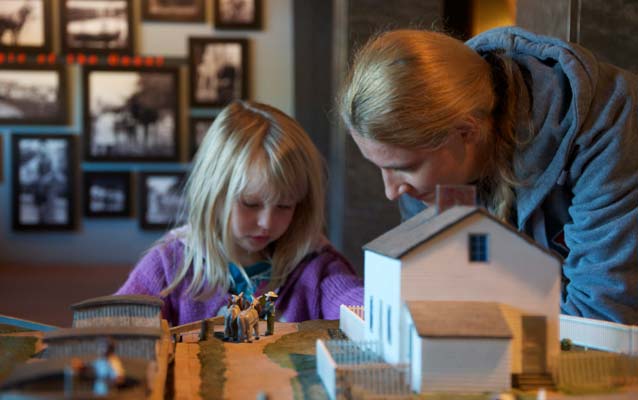 Description
Students develop an understanding of the C&O Canal's purpose and function. Students will differentiate between man-made and human features and how they affect the environment, compare the past and present to understand what life was like for a child on the C&O Canal, and explore the function and design of toys from the past. At the end of the activity, students should be able to...
Design and create a toy,

Identify with the life of a canal child, and

Compare natural and man-made features.
The park partnered with Allegany County Public Schools to develop this field trip along with pre- and post-visit activities for your classroom. Completing the classroom activities will enhance student learning. The lessons include a canal orientation and STEM activity (links below). 
Field Trip Itinerary
There are many indoor and outdoor activities at Cumberland's Canal Place for kindergarteners to explore by comparing and contrasting man-made and natural, past and present. 
Welcome (15 minutes)
Children will meet the ranger by Daisy the Mule to explore the plaza, where we will learn a canal song. They will be assigned into smaller groups for later activities.   
Canal Museum: Scavenger Hunt (45 minutes) 
In groups with the assistance of an adult, students will complete a scavenger hunt in the canal museum. As students locate items on their list, the accompanying adult will read the historical information noted in the museum. Students will have an opportunity to ask questions and discuss items as they explore the museum. 
Festival Grounds: Where Did That Come from? (45 minutes)
We will lead students in a walk around the Canal Place festival grounds and students will locate and discuss man-made and natural features of the environment. Then, working in small groups, students will use photographs to discern man-made and natural resources, and then sort picture cards into two groups.   
Canal Boat Replica: Story Time (45 minutes)
Children come aboard The Cumberland, our canal boat replica, for a tour where they will identify ways canal families lived and worked on the canal boats. Then we have story time featuring historic canal photographs and characters. Our traveling trunk will give students some "hands-on" time with historic objects as well. 
Canal Classroom: Toy Time! (45 minutes)
In our Canal Classroom, children will discuss different ways people designed toys in the past and the present. Then, they will design a toy using paper, crayons, markers, and pencils. Students have an opportunity to extend this activity in their school classroom with the follow-up STEM activity. 
Closing Activity (15 minutes)
Students will share what they have learned and be sworn-in as C&O Canal Junior Rangers.
Plan Your Visit
A Plan your Visit Guide including your itinerary, pre- and post-visit activity worksheets, vocabulary, and safety reminders is available if you want more information. To get a Plan your Visit Guide or to schedule a field trip, email us.
Contact
Canal Classrooms Rangers
301-714-2213
Details
Subject:

Family Life, History, Science and Technology

National/State Standards:

CCSS.ELA.Literacy (W.K.1)
CCSS.Math.Content.K.G.A.3 
CCSS.Math.Content.K.G.B.4 
CCSS.Math.Content.K.G.B.5

type:

Field Trips