Friction, Leverage, and Gravity: STEM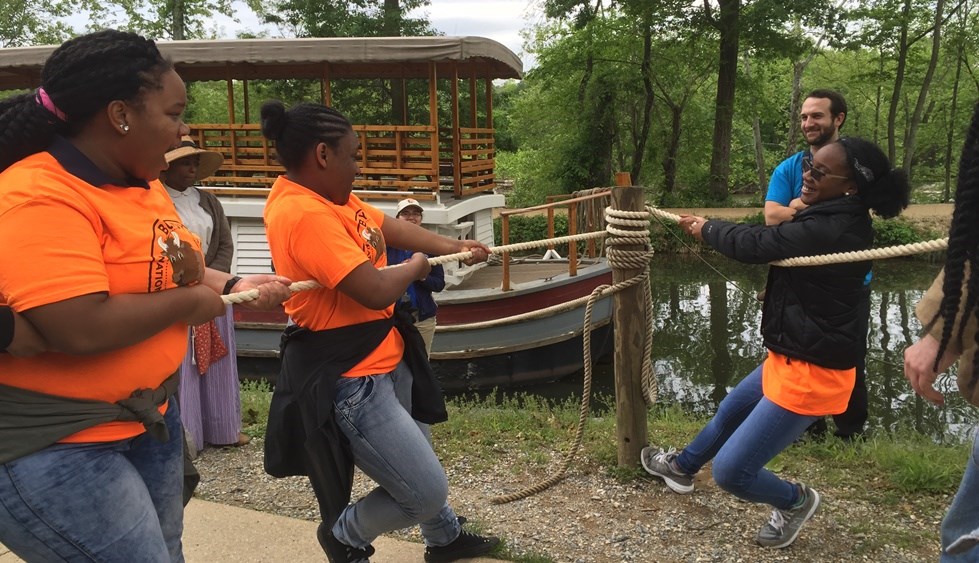 Friction, Leverage, and Gravity: The Physics of the Canal - Secondary
Description
In this activity, students will explore the history and engineering of the Chesapeake and Ohio Canal. Students will develop an understanding of the C&O Canal's purpose and function. Students will differentiate between man-made and human features and how they affect the environment, compare the past and present to understand what life was like for a people on the C&O Canal, and explore the function and design of technology from the past.
Students will rotate through three stations exploring canal operations and canal life via STEM hands-on demonstrations of friction, leverage and gravity. Students will also 'Meet the Mules' and learn about how this invaluable hybrid animal supported C&O Canal operations.
At the end of the activity, students will be able to…
1.Understand the limitations to technology.
2.Explain the hardships of canal boat life.
3.Explain the use and function of the canal lock system.
The park has partnered with Montgomery County (Maryland) Public Schools to develop this field trip day along with pre- and post-visit activities for your classroom. Completing the classroom activities will enhance student learning. The lessons include a mapping project, a critical thinking activity, a reader's theater, and several math and estimation activities. See Appendix A or our website for materials.
Location: Great Falls Tavern
Length: 1 hour
Cost: $5 per student
Activity Itinerary
In this activity, students will be broken up into three rotations. The first rotation will be a Meet the Mules activity. Students will have the opportunity to meet the mules that we have on-site and pet them. In this activity, students will learn about the role of the mules on the canal, and understand how the mules "pushed" the boats rather than "pulled". In the second rotation, students will get the opportunity to measure the depth of the lock and use mathematics to determine how much the water in the lock rises and falls in its 184.5 mile journey along the canal. They will also use estimation skills to estimate the maximum length of a boat that could fit into a lock. Finally, in the last rotation, students will be given several sets of rope where they have to estimate the size of the different areas of a canal boat (living quarters, hay area, mule stable, cargo hold). Students will learn about life on the canal, and understand the differences in living standards as compared to 1850.
Plan Your Visit
A Plan your Visit Guide including your itinerary, pre- and post-visit activity worksheets, vocabulary, and safety reminders is available if you want more information. To get a Plan your Visit Guide or to schedule a field trip, e-mail us.
Contact
Canal Classrooms Rangers
301-714-2213
Last updated: January 4, 2018