Field Trips
Exploring the C&O Canal's Cushwa Basin in Williamsport, Maryland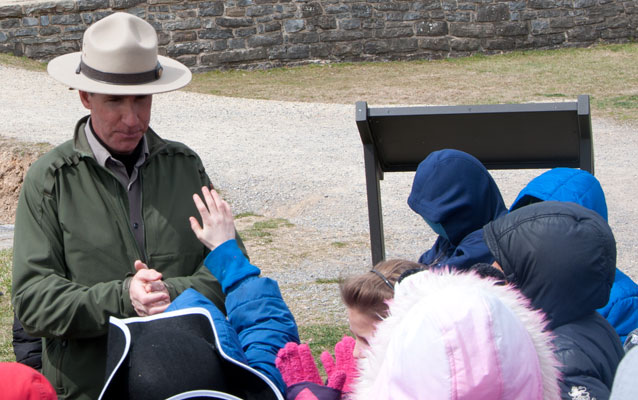 Description
 As a result of visiting the Canal Basin, students should be able to...
Define the purpose and importance of National Parks with a focus on preserving the C&O Canal as a place to learn and explore our history,

Describe the C&O Canal as an early transportation system including canal operations, lock technology, and life for canal workers,

Explain the concepts and effects of various earth processes, including: weathering, erosion, deposition, and flooding,

Examine plants and wildlife using binoculars.
The park partnered with Washington County (Maryland) Public Schools to develop this field trip day along with pre- and post-visit activities for your classroom. Completing the classroom activities will enhance student learning. The lessons include a mapping project, a critical thinking activity, a reader's theater, a photograph activity, and several math and estimation activities (links below).
Field Trip Itinerary
There are four on-site activities at the Cushwa Basin: a walk to Lockhouse 44 that includes a visit inside an historic lockhouse and a lock demonstration; a visit to our historic Trolley Barn with a scavenger hunt; a STEM activity about earth processes; and a nature hike.
Lockhouse 44 (approximately 60 minutes)
On the way to the lockhouse, students will utilize a field observation guide as scientists would, to explore the canal's natural and historical attributes. Students visit Lockhouse 44 and open/close the lock gates. This one-mile round trip walk takes place on the towpath, which is a flat surface.
Trolley Barn (approximately 60 minutes)
Students will learn about life on the canal through observation and discussion. Students will participate in a scavenger hunt to explore canal exhibits and hands-on materials. This program takes place inside the historic Trolley Barn. 
Earth Processes (approximately 60 minutes)
Weathering, erosion, and deposition shape our landscapes. Working in small teams, students will use an erosion table to discuss earth processes and how they changed the area around the Conococheague Creek Aqueduct and the Cushwa Basin. In their small teams, students will explore the Canal for examples of earth processes and discuss possible causes, including: weathering, erosion, deposition, and flooding. 
Nature Walk (approximately 60 minutes)
Students will investigate wildlife and plants and document their observations using binoculars (provided by the Park). Students will look for items along the Canal that they find to be beautiful, inspirational, historic, or an example of erosion or another natural process. As an optional post-visit activity, students may study seven pictures of the Canal taken at Williamsport by students just like them and decide whether they find the photograph to be inspirational, beautiful, of something historic, or an example of a natural process (link below). 
Plan Your Visit 
A Plan your Visit Guide is available if you want more information including your itinerary, pre and post visit activity worksheets, vocabulary, and safety reminders. To get a Plan your Visit Guide or to schedule a field trip, 
email us
.
Please Note: 
We are taking reservations, if you are eager to get scheduled now, please
e-mail us
or call (301) 714-2213 to reserve a date. Include your name, phone number, grade, class size, and preferred date in the voicemail/e-mail. We will confirm your reservation via e-mail or by phone within 3 business days.
Contact
Canal Classrooms Rangers
301-714-2213
Details
Subject:

African American History and Culture, Biology: Plants, Civil War, Commerce and Industry, Conservation, Earth Science, Economics, Engineering, Environment, Family Life, History, Hydrology, Regional Studies, Science and Technology, Social Studies, Transportation, Westward Expansion

National/State Standards:

English Language Arts, Speaking and Listening, Comprehension and Collaboration:
SL.3.1-3
SL.4.1-3
SL.5.1-2
ELA-Literacy W4.25.3
ELA-Literacy RI4.1, 2
ELA-Literacy SL4.1, 4

Next Generation Science Standards:
4-ESS2-1 Earth Systems
4PS3-1 Energy

type:

Field Trips