Field Trips
C&O Canal Around the Bends: A Case Study of the Paw Paw Tunnel (5th Grade, near Paw Paw, West Virginia)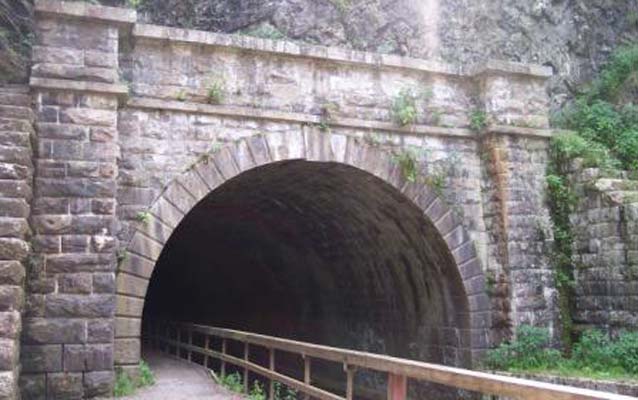 Description
On their hike, students compare and contrast the various options that engineers considered when constructing the C&O Canal through the Paw Paw bends. Students form an opinion on whether or not it was worth the costs. At the end of the activity, students should be able to…
Support an opinion about the cost efficiency of building the tunnel,
Describe a day in the life of an immigrant worker at the tunnel.
The park partnered with Allegany County Public Schools to develop this field trip along with pre- and post-visit activities for your classroom. Completing the classroom activities will enhance student learning. 
Each group will be equipped with a pedometer, GPS unit, and digital camera or digital video camera. The whole class will take the hike together, but students are responsible for their job within their group.  
Field Trip Itinerary
On their hike, students compare and contrast the various options that engineers considered when constructing the C&O Canal through the Paw Paw bends. Students form an opinion on whether or not it was worth the costs. 
Welcome (25 minutes)
Ranger will greet students at the campground amphitheater (adjacent to the parking lot), review safety rules and canal vocabulary. 
Tunnel Hike (150 minutes)

Students will take a 4 mile hike with a ranger: over the tunnel on Tunnel Hill Trail and through the tunnel itself. Along the way, we will stop and talk about the tunnel's social, economic, and cultural history. Students should bring a flashlight to navigate the tunnel and see the unique cultural and natural objects in the tunnel. Lunch will be along the trail. Upon returning to the campground area, students will take a restroom break before doing the wrap up activity.  
Wrap Up (15 minutes)
Students will summarize their experience, sharing their conclusions on the dilemmas that plagued the canal and tunnel workers.
Plan Your Visit
A Plan your Visit Guide is a document that contains information for students, teachers and chaperones to help prepare them for their visit to the park. This Plan Your Visit Guide provides general information for all field trip sites throughout the park. 
Contact
Canal Classrooms Rangers
301-714-2213
Details
Subject:

Engineering, History, Physical Fitness, Science and Technology, Transportation

National/State Standards:

CCSS.ELA-Literacy.CCRA.W.1
CCSS.ELA-Literacy.CCRA.W.6
CCSS.ELA-Literacy.W.5.1a
CCSS.Math.Content.5.MD.A.1

type:

Field Trips