Field Trips
C&O Canal Riddle Me History (4th Grade, Oldtown, Maryland)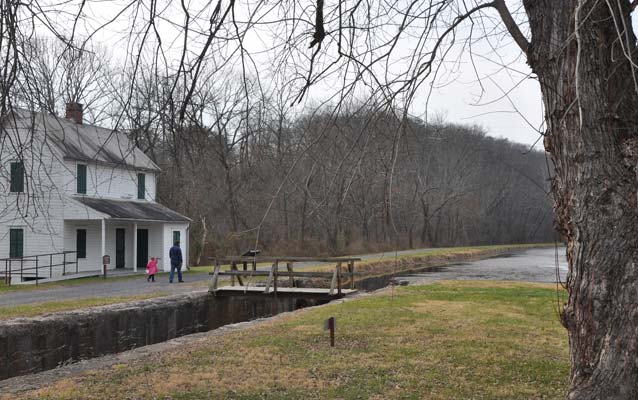 Description
Students will visit Oldtown, Maryland, to learn about Native Americans, use their navigation skills, and immerse themselves in frontier Maryland history. At the end of the activity, students should be able to…
Navigate using a map with compass and/or GPS unit, 
Identify how Native Marylanders and early Maryland settlers met their basic needs,
Identify significant early people and structures in Maryland settlement.
The park partnered with Allegany County Public Schools to develop this field trip along with pre- and post-visit activities for your classroom. Completing the classroom activities will enhance student learning. The lessons include watching a short video about the tunnel (link below). 
Field Trip Itinerary
During this extended outdoor experience, students will learn about change over time and how places develop. They will walk to sites in the Oldtown area, a total of approximately two miles. 
Welcome (30 minutes)
Students will meet the ranger at the parking lot of Lockhouse 70/Oldtown. They will share their canal knowledge and portray historical figures from the Oldtown area.  
I'm a Mystery, Tell My History (60 minutes)
The students will go on a scavenger hunt and visit sites in Oldtown to reveal the layers of history here. 
Basic Needs (60 minutes)
Students will work in cooperative groups to draw conclusions about how Native Americans met their basic needs through observation of the landscape. 
Exit Ticket/Wrap Up (30 minutes)
Students will learn discuss advocacy and write a song to recap their day.
Plan Your Visit
A Plan your Visit Guide is a document that contains information for students, teachers and chaperones to help prepare them for their visit to the park. This Plan Your Visit Guide provides general information for all field trip sites throughout the park. 
Contact
Canal Classrooms Rangers
301-714-2213
Details
Subject:

Colonial History, Engineering, French and Indian War, History, Science and Technology, Transportation

National/State Standards:

CCSS.ELA-Literacy.W.4.3
CCSS.ELA-Literacy.SL.4.1
CCSS.ELA-Literacy.SL.4.4
CCSS.Math.Content.4.MD.A.1

type:

Field Trips