Field Trips
C&O Canal Tunnels Rock: How Humans and Nature Change Earth (2nd Grade, near Paw Paw, West Virginia)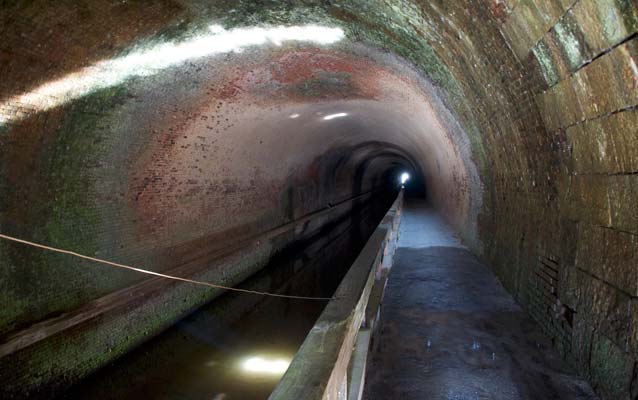 Description
Students explore the history and engineering of the C&O Canal as they consider man-made and natural changes to the environment. At the end of the activity, students should be able to…
Identify rock types,

Label and identify features of a map, and

Differentiate between man-made and natural changes on Earth.
The park partnered with Allegany County Public Schools to develop this field trip along with pre- and post-visit activities for your classroom. Completing the classroom activities will enhance student learning. The lessons include watching a short video about the tunnel, a map and measuring STEM activity, an opinion piece, and 3-D tunnel building (links below). 
Field Trip Itinerary
During this extended outdoor experience, students will learn about the geology of the Paw Paw area and compare and contrast man-made and natural changes. They will take a hike through the Paw Paw Tunnel, a total of approximately two miles. After the hike, they will gather evidence of change over time like archaeologists and paleontologists.
Welcome (15 minutes)
Children will meet the ranger at the parking lot for the Paw Paw Tunnel. We will walk to the amphitheater together and review our canal vocabulary and learn about human and man-made changes to the landscape.  
Tunnel Tour (90 minutes)
We will walk through the tunnel, a two mile round trip, making some stops along the way. Students should bring their cameras to document their hike and the unique natural and cultural objects they will see. Students should also bring a flashlight to navigate the tunnel and see the unique natural and cultural objects in the tunnel.  
Fossil Fun (30 minutes)
Students will return to the amphitheater to study fossils that might be found along the C&O Canal in the Brallier Shale formation found near the tunnel. 
History Hunt (30 minutes)
Students will spend time in the campground, investigating the history to be uncovered there. Students will learn about archaeology and how layers of history form. 
Wrap Up (15 minutes)
Students will summarize the effects of humans and nature on the environment and share their observations.  
Plan Your Visit
A Plan your Visit Guide is a document that contains information for students, teachers and chaperones to help prepare them for their visit to the park. This Plan Your Visit Guide provides general information for all field trip sites throughout the park. 
Contact
Canal Classrooms Rangers
301-714-2213
Details
Subject:

Archaeology, Earth Science, Engineering, History, Paleontology, Science and Technology, Transportation

National/State Standards:

CCSS.ELA-Literacy.CCRA.W.1
CCSS.ELA-Literacy.CCRA.W.7
CCSS.ELA-Literacy.W.2.1 
CCSS.Math.Content.2.MD.A.1
CCSS.Math.Content.2.MD.A.4

type:

Field Trips