Field Trips
C&O Canal: George, Tools and Mules (1st Grade Cumberland, Maryland)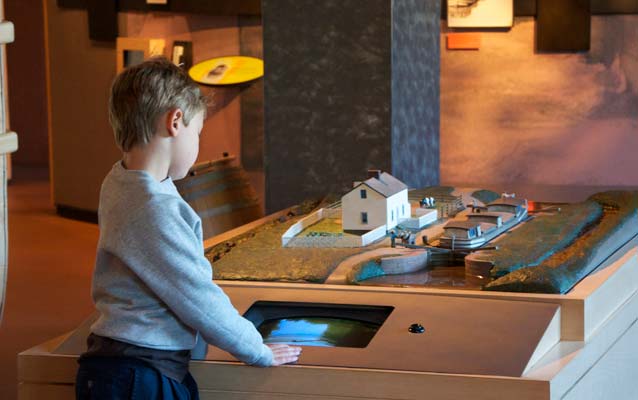 Description
Students explore the history and engineering of the C&O Canal and canal boats, and the importance of the mules in canal operations. At the end of the activity, students should be able to:
Define, design and create a hybrid animal,

Construct and defend their opinion of their hybrid animal, and

Compare different plant adaptations and discuss how humans adapt to the environment around them.
The park partnered with Allegany County Public Schools to develop this field trip along with pre- and post-visit activities for your classroom. Completing the classroom activities will enhance student learning. The lessons include a canal orientation and a STEM activity (links below). 
Field Trip Itinerary
There are many indoor and outdoor activities at Cumberland's Canal Place for first graders to explore the canal and learn about its history, design, and the mules that were integral to its operation.
Welcome (10 minutes)
Children will meet the ranger by Daisy the Mule to introduce our theme: mules and tools.   
Canal Museum: What is a tool? (45 minutes)
Students will break into smaller groups to explore three specific areas of the museum. At the Mule Power exhibit, students will watch a video, discuss the role of mules on the canal, learn how canal children cared for mules, and examine some of the mule artifacts. At the Boat Building exhibit, students will examine and discuss canal era tools and compare them to the modern version of the tool using a worksheet.  
Canal Classroom: Hands-on Activities (45 minutes)
Students will visit our Canal Classroom where they will draw a hybrid animal and color and label a boat diagram. During our companion STEM activity, students will discover the "tools" plants use to spread their seed. 
Canal Boat Replica: All About Mules (45 minutes)
Children come aboard The Cumberland, our canal boat replica, for a tour where they will learn how canal families and their mules lived and worked on the canal boats. They will also take turns pulling a "canal boat." 
George Washington's Cabin (45 minutes)  
Students will hike to George Washington's Headquarters across the river to discuss General Washington's vision for westward expansion and his early surveying methods/tools. Students will consider terrain, technology, and tools as they discuss the building of the canal. Please note: we will not be going inside the cabin. 
Closing Activity (15 Minutes)
Students get their exit ticket by helping create a chart displaying their knowledge of the canal.
Plan Your Visit
A Plan your Visit Guide is a document that contains information for students, teachers and chaperones to help prepare them for their visit to the park. This Plan Your Visit Guide provides general information for all field trip sites throughout the park. 
Contact
Canal Classrooms Rangers
301-714-2213
Details
Subject:

Biology: Animals, Family Life, History, Science and Technology, Transportation

National/State Standards:

CCSS.Math.Content.1.G.A.1
CCSS.ELA-Literacy.W.1.1
CCSS.ELA-Literacy.W.1.6

type:

Field Trips