Building The Canal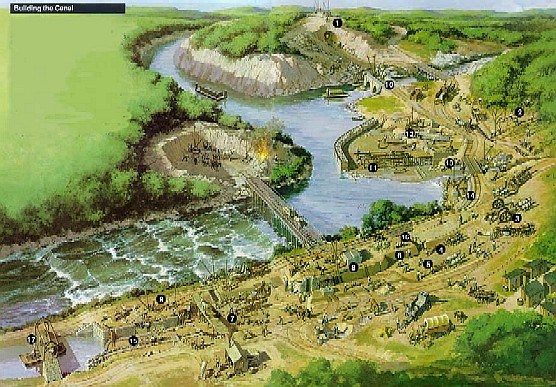 The canal was built mainly with hand tools and horse power. Construction did not simply begin at one end and progress steadily to the other end, leaving a finished canal in its wake. Instead, the job was let to dozens of contractors in 1/2 mile sections, and, for the most part, they worked simultaneously. Their activities would not have been performed concurrently or so close together, but they are shown together here to make portraying this work easier.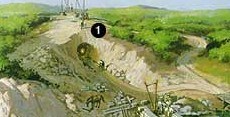 In the distance the tunnel is being dug, blasting was often necessary to clear a path for the canal.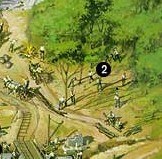 Trees were frequently obstructing canal construction and had to be removed.

After trees were cut or broken, stumps were pulled out with huge, horse-powered winches.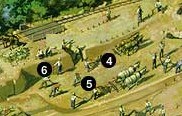 Root-cutting plows (4) scraped the surface in preparation for digging (5), berm-building (6), and puddling with waterproof clay.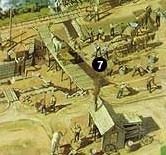 Puddling with waterproof clay was another process that was accomplished to construct the canal.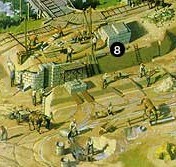 Cut stone was shipped to the site where workers would build many different structures.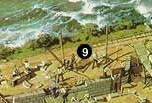 Pre-built lock gates were shipped to the site so workers did not have to construct them on site.
Workers constructed 11 aqueducts along the canal.
Other structures that were completed were feeder dams (11), guard locks (12), culverts (13), retaining walls(14)...
...lift locks...

...waste weirs...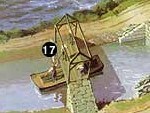 ...stop locks.
Questions for Canal Construction
1. If the canal were being constructed today, what machines would have been helpful? On which jobs would they have been used?
2. Engineers designed the canal to give lockkeepers as much control over the river as they could. What do you think each of the following elements did, given their names and locations?
a) feeder dams (11)?
b) guard locks (12)?
c) waste weirs (16)?
d) stop locks (17)?

Last updated: December 22, 2017