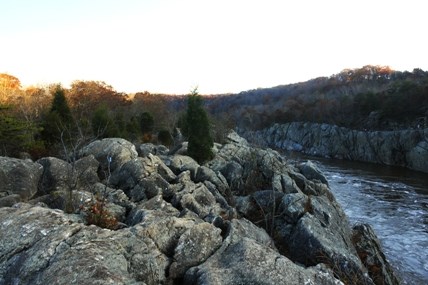 We're looking for volunteer trail stewards willing to hike parts of the trail, or educate visitors at the trailheads, to protect the incredible natural resources of Bear Island, which this rugged trail traverses.
Stewards have been active now for several years, educating hikers about Leave No Trace principles, helping to ensure they are prepared for the strenuous hike, sharing stories about the sensitive vegetation, and reducing trampling of the Bear Island's many rare plants. Active trail stewards can go out any day of the week, can hike the whole trail or just part of it, or can stay near the trailhead and connect with hikers before they begin. Trail stewards wear park volunteer identification, carry park radios for emergency communication, and can benefit from basic first aid training to help with minor injuries. They are the eyes and ears for the National Park Service, and The Nature Conservancy, who co-own this biologically diverse island, and help us protect the rare habitats from the estimated 50,000 hikers on the Billy Goat Trail on Bear Island, known as "section A". Stewards have also been instrumental in reporting emergencies back to park staff for a more rapid response.
To apply as a volunteer for the Billy Goat Trail Steward Program, please go to current volunteer opportunities and complete the volunteer form. Thank you for your interest in volunteering.