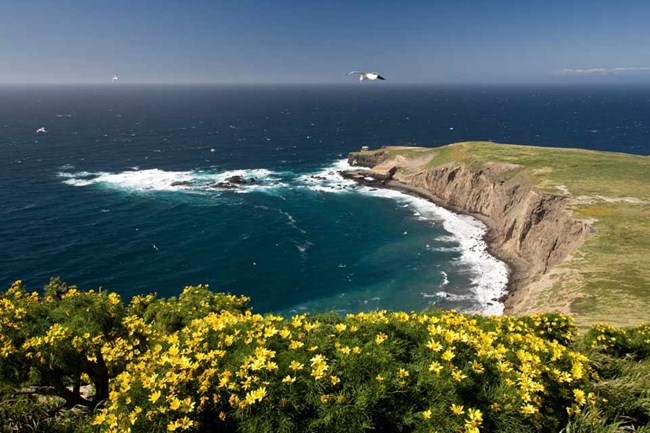 "A wilderness, in contrast with those areas where man and his works dominate the landscape, is hereby recognized as an area where the earth and its community of life are untrammeled by man, where man himself is a visitor who does not remain." - 1964 Wilderness Act
Channel Islands National Park enabling legislation, the Wilderness Act, and National Park Service Management Policies require that lands within the park be studied for wilderness designation. The purpose of wilderness designation is to preserve and protect wilderness characteristics and values in perpetuity.
Managing Wilderness
Managing wilderness involves preserving "wilderness character." We understand wilderness character to be the combination of biophysical, experiential, and symbolic ideals that distinguishes wilderness from other lands. It is represented by a combination of five qualities: 1) natural; 2) solitude or a primitive and unconfined type of recreation; 3) undeveloped; 4) untrammeled nature (essentially free from the actions of modern human control or manipulation); and 5) ecological, geological, or other features of scientific, educational, scenic, or historical value.
By policy, the National Park Service is required to manage all recommended wilderness and recommended potential wilderness areas so as to preserve wilderness resources, and preserve wilderness character. To this end, Channel Islands National Park is instituting park protocols and best practices to identify and preserve wilderness character, and applying the concept of "minimum requirement" for administration of these areas. Future Efforts will include public processes to describe the unique character of Channel Islands wilderness, and developing strategies for wilderness stewardship.
Wilderness Eligibility
The General Management Plan (GMP) analyzed lands within the park boundary and identified the following eligible and non-eligible lands.
Channel Islands Wilderness-eligible lands:
Santa Barbara Island—99% of lands

Middle Anacapa—100% of lands

West Anacapa—100% of lands

Santa Rosa Island—96% of lands

Santa Cruz Island—23% of Island, 97% of NPS lands

Small islets, islands, and rocks (excluding Prince Island)—39 acres


Channel Island Wilderness non-eligible lands:
Santa Barbara Island—4 acres (Coast Guard sites and NPS developed area)

East Anacapa Island—100% of lands

Santa Rosa Island—300 acres including NPS developed areas, campground, Coast Guard site, Johnsons Lee, some unimproved roads

Santa Cruz Island—47,500 acres including all private Nature Conservancy lands, NPS developed areas at Scorpion, Prisoners, Del Norte and Smugglers and roads

San Miguel and Prince Island—entire island (

The Wilderness Act does not extend to lands owned by the Department of Defense.)

Marine waters within the park boundary (

The Wilderness Act pertains only to federal lands.)
Wilderness Recommendation
Building on the eligibility study, the GMP proposes all eligible lands be designated as wilderness with the exception of East Santa Cruz Island and Santa Rosa Island lands. Instead, these are proposed for "potential wilderness" designation. "Potential wilderness" is an area that has wilderness characteristics but has temporary nonconforming conditions or uses. The areas designated as "potential wilderness" require a substantial amount of ecosystem restoration.
Designation Process
Only Congress can designate wilderness. The park wilderness is now "proposed wilderness" and "proposed potential wilderness" by virtue of the GMP. The next step in the process is for the Director of the NPS to submit the wilderness proposal to the Secretary of the Interior, who then recommends wilderness designation to the President. The President then recommends wilderness designation to Congress. Once wilderness has been proposed by the agency, it is managed as wilderness.