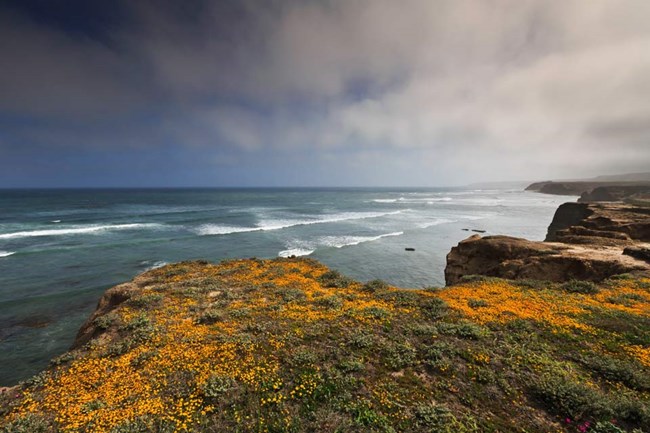 As of 12/21/12, the proposed project is being reconsidered by the National Park Service. At this time it has not yet been determined whether a new or amended project proposal and National Environmental Policy Act document will be available for public review and comment.
The California Public Utilities Commission (CPUC), in cooperation with the National Park Service (NPS), has prepared a Draft Initial Study/Environmental Assessment (Draft IS/EA) to evaluate the Channel Island Telecommunication Company (CITC) application for the Channel Island Telecommunication Project (project). The application requires approval of a Certificate of Public Convenience and Necessity (CPCN) from the CPUC and a right-of-way permit from the NPS. The Draft IS/EA has been prepared incompliance with the California Environmental Quality Act (CEQA) and the National Environmental Policy Act (NEPA).
Project Summary
CITC is proposing to install telecommunication facilitiesat up to 15 locations within the Channel Islands National Park. These new telecommunication facilities would serve to improve the currently limited telecommunication capabilities on the five islands, and would allow for private and government cellular phone and internet service between the five islands and the mainland.
Project Location
The project is located at up to 15 project locations on four of the five islands that comprise the Channel Islands National Park.These four islands include San Miguel, Santa Barbara, Santa Cruz, and Santa Rosa islands. All proposed telecommunication facilities would be installed on or near existing structures and with previously disturbed areas.
Public and Agency Comments
The Draft IS/EA is being circulated for a 30-day review period from November 14, 2012, through December 14, 2012. The public may present comments and concerns regarding the proposed project and the adequacy of the Draft IS/EA. Copies of the Draft IS/EA are availablefor review at the CPUC's website: Channel Islands Telecommunications Project and at the following libraries:
Ventura County Library
Avenue Library Branch
606 N. Ventura Avenue
Ventura, CA 93001
Santa Barbara County Central Library
40 East Anapamu Street
Santa Barbara, CA 93101
Comments will be accepted through 4:30 p.m. on December 14, 2012. Any comments received after that date will not be included in the Final IS/EA. Please send your comments regarding the Draft IS/EA, with the name andaddress of an appropriate contact person, to:
California Public Utilities Commission
c/o. Mr. Jeffrey Smith
Project Manager, Panorama Environmental, Inc.
One Embarcadero Center, Suite 740
San Francisco, CA 94111
Fax: (650) 373-1211
E-mail: Jeff.Smith@panoramaenv.com
National Park Service
Mr. Russell E. Galipeau, Jr.
Superintendent, Channel Islands National Park
1901 Spinnaker Drive
Ventura, CA 93001
Email: Russell_Galipeau@nps.gov
Documents
Channel Islands Telecommunications Draft Initial Study/Environmental Assessment
Appendix A: Project Application
Appendix B: Cumalitive Project List
Appendix C: Historic Resource Inventory and Evaluation Report
Appendix D: Biological Resources Tables