Channel Islands Live Distance Learning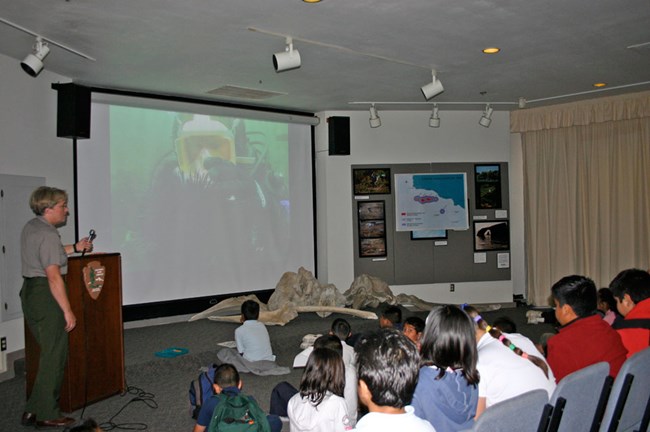 ---
At this time, due to COVID-19 and an upcoming construction closure in 2022 on Anacapa Island, we are not conducting our Live Dive and Live Hike programs. Please reach out next year regarding fall 2022 programs.

If you would like to share a previous recorded program with your class, visit our Channel Islands Live Archived Programs page.
---
Channel Islands Live distance learning programs engage students in learning about the marine and terrestrial ecosystems of the Channel Islands through activities that support the Common Core and Next Generation Science Standards. Activities focus on important practices used by scientists, such as asking questions and evaluating and communicating information. Students interact live with park rangers on Anacapa Island, a remote island off the southern California coast, during these presentations.
Live Dives are offered from underwater within one of the most diverse ecosystems in the world, the giant kelp forest. These programs focus on kelp forest ecology, marine protected areas, and scientific monitoring techniques. Live Hikes are offered from scenic island overlooks and concentrate on American Indian culture and island isolation and biogeography.
These FREE live programs are available for interactive participation at your location and at the park visitor center in Ventura, California. Get started by visiting the links below.
Last updated: November 9, 2021