Distance Learning
Channel Islands Live Hike: Island of the Blue Dolphins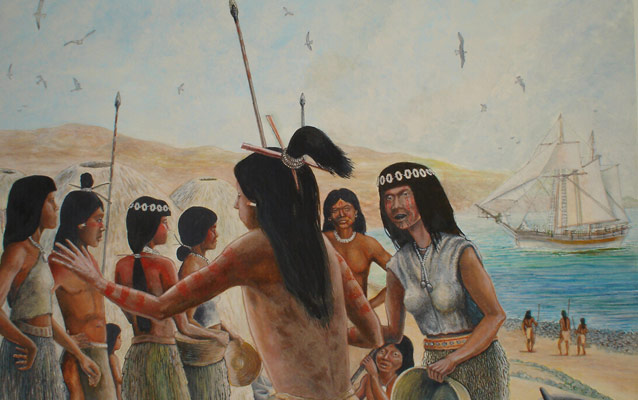 Students discover Anacapa Island through an interactive, live visit with a park ranger and learn about the Channel Islands' tie to the book Island of the Blue Dolphins. They identify basic human needs and find out how these needs are met by people living on islands with fewer and less diversity of resources.
Broadcast length: 30 minutes
Grade level: Fourth to sixth
Objectives addressed:
Identify the goods and ecosystem services that were essential to the lives, economies, and cultures of American Indians on the Channel Islands.
Explain how the Channel Islands supplied American Indians with different natural resources, goods, and ecosystem services and resulted in different land use patterns and economic activities.
Identify that island American Indians developed different methods to extract, harvest, transport, and consume natural resources than their mainland counterparts.
Essential question:
What basic needs are common to all livingthings?
Program Documents
How to Participate
To participate in a Channel Islands Live distance learning program:
Test Your Connection

 Follow one of these set-up instructions and run required tests:

 Preparing for a Channel Islands Live Broadcast Using Videoconferencing Software

 Preparing for a Channel Islands Live Broadcast Using Videoconferencing Equipment


Schedule Your Program

Upon successful testing, schedule your broadcast date and time by submitting the Channel Islands Live Broadcast Reservation Form.
(Note: Save the PDF fillable form to your computer, add your information in the required fields, save it again, and then attach it to an email. The email address is listed on the form.)

Once your request is processed you will receive an email confirmation of your broadcast date and time. "Day of Broadcast Instructions" will be included with this email. 
Spaces are limited and request forms are handled on a first-come, first-served basis. Education programs are offered Wednesdays from September to mid-June between 11:00 a.m. and 2:00 p.m. Pacific Time. Be sure to keep any time differences in mind when requesting programs. 
If a live program is not available,archived programs can be used with program lesson plans. Other curriculum materials can also help educators explore the park with their students and meet their curriculum needs.
For additional information contact: Education Coordinator
Details
Subject:

American Indian History and Culture, Anthropology, Archaeology, Geography

National/State Standards:

California/History–Social Science—Grade 4:4.2.1

Keywords:

American Indian, Native American, Gabrielino/Tongva, archeologist, artifacts, adapt, natural resources, island, islands, ocean, oceans

type:

Distance Learning