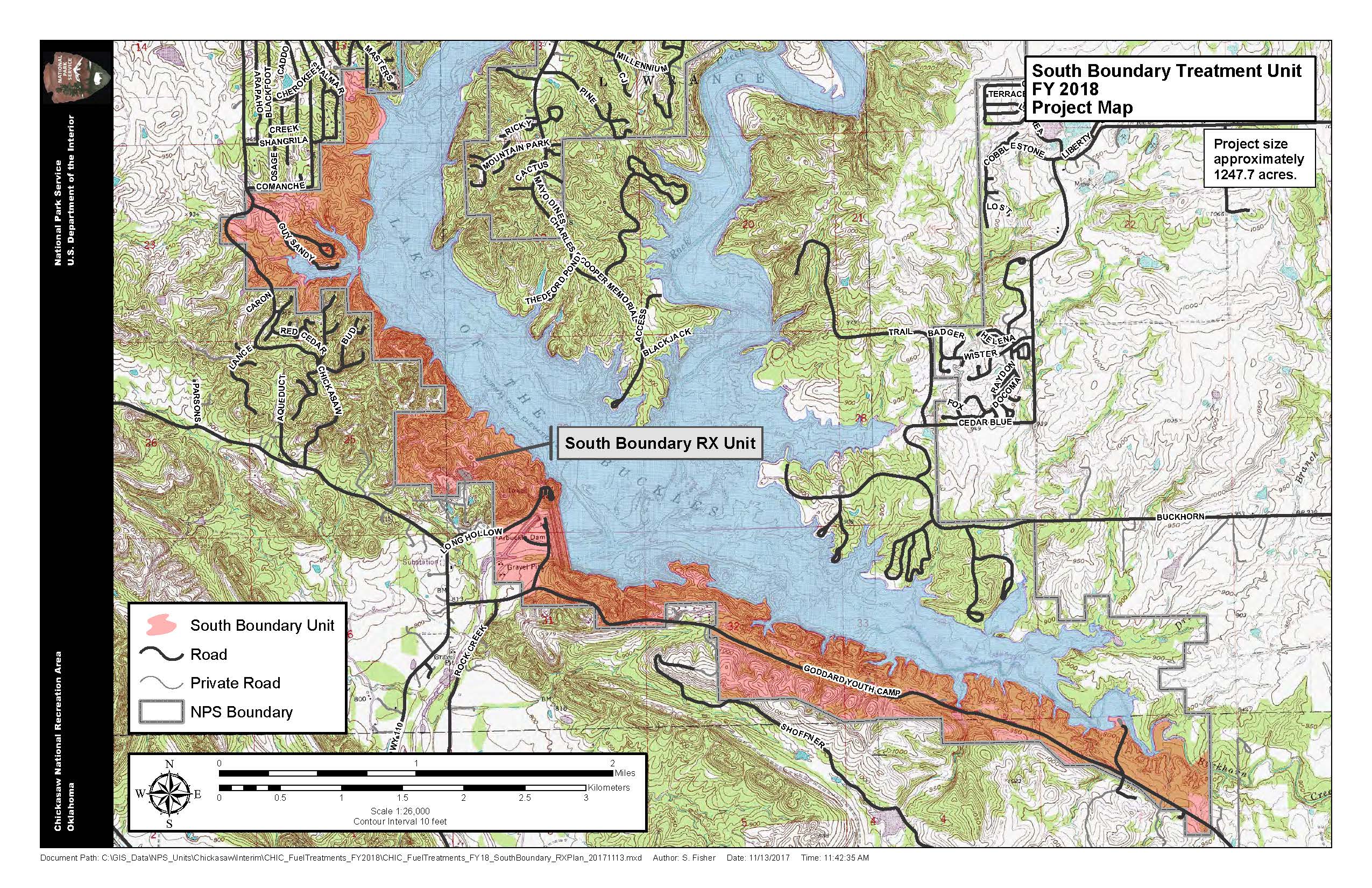 News Release Date:
December 19, 2017
Contact: Dan Winings, (580) 622-4262 cell: (580) 618-2601
SULPHUR, OK – ­­­Chickasaw NRA will begin prescribed burning in mid-January 2018 to continue to the end of February, depending on weather conditions. These fires will occur on the southern border of the Lake of the Arbuckles from south of Masters Road, east towards Buckhorn Creek.
A management team consisting of firefighters from Chickasaw and Lake Meredith National Recreation Areas, other National Park units, and other partners will carry out prescribed burning. During burn times, nearby property owners will receive information about fires in their area and any special precautions that would help lessen the impacts of smoke (i.e. turning off central heat/air conditioning units).
Smoke from the fires may affect other areas of Chickasaw NRA, as well as the towns of Sulphur, Davis, and Dougherty, though every effort will be made to minimize these effects. Wind direction and upper level mixing of smoke will be taken into account during burning. Smoke is expected in the area during active burning but is expected to settle over Lake of the Arbuckles and disperse each night.­
These burns are part of the National Park Service's prescribed fire program, which is designed to help protect local communities from catastrophic uncontrolled wildfires. Prescribed fires also support the balance of the natural ecosystems by promoting nutrient recycling; increasing species diversity; and reducing fuels that would lead to unwanted, uncontrolled wildfires. Late winter and early spring hunting in the burn areas may be affected, but habitat improvements from the prescribed fires will contribute to the long-term health of the ecosystem. By clearing deadfall and adding vital nutrients back into the soil, these fires help create a better environment for native species such as deer and turkey.
Through these burns, which attempt to mimic natural fire cycles, the Eastern Red Cedar tree population is more easily controlled. This pervasive species creates wildfire hazards, displaces other native plants, and decreases air quality with its high levels of pollen.
For updates about burn ignitions and smoke direction predictions, please call (580) 618-2601.
About the National Park Service. More than 20,000 National Park Service employees care for America's 417 national parks and work with communities across the nation to help preserve local history and create close-to-home recreational opportunities. Learn more at
www.nps.gov
.