Park Ranger Luis Krug Honored As Outstanding Federal Law Enforcement Employee in Oklahoma
Date:
May 7, 2010
Contact:
Eric Leonard
, 580 622-7282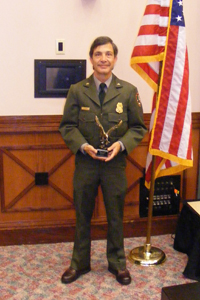 U.S. Park Ranger Luis Krug of the Chickasaw National Recreation Area was honored as the Outstanding Federal Law Enforcement Employee in Oklahoma by the Oklahoma Federal Executive Board on Monday, May 3rd.
This award was presented in conjunction with Public Service Recognition Week, a nationwide public education campaign honoring the men and women who serve our nation as federal, state, county and local government employees and ensure that our government is the best in the world.
U.S. Park Ranger Krug works independently as a Federal Law Enforcement officer in the Chickasaw National Recreation Area to protect the park's visitors, historical structures, and natural resources.  He chairs the Murray County Multi-disciplinary Team which is charged with the investigation of crimes against children, leading the organization to better protect the children of Murray County by training local officers, obtaining grant money, improving accountability of new equipment and supporting interagency investigations.  He serves on the Oklahoma Council on Law Enforcement Education and Training as a curriculum review member, writing and setting training standards for future peace officers in Oklahoma.  He has served as the National Park Service DARE officer for 8 years in the Sulphur and Davis, OK school districts, teaching over 1200 students in rural Oklahoma the value of avoiding drugs and making responsible decisions.
Park Superintendent Bruce Noble stated, "Luis Krug represents the very best of the National Park Service protection ranger ranks and it is extremely gratifying to see his many accomplishments recognized through this important award."
Last updated: February 24, 2015