Multiple Improvement Projects to Close Access to Veterans Lake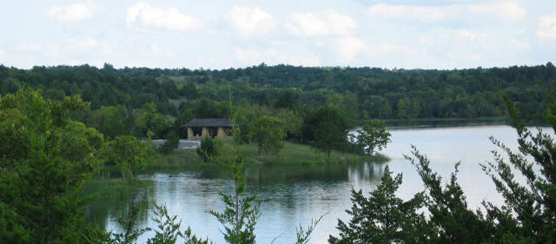 News Release Date:
February 5, 2010
Contact: Eric Leonard, 580 622-7282
The Veterans Lake area of Chickasaw National Recreation Area's Platt Historic District will close at the beginning of June to allow for two major construction projects to occur. The expected duration of the closure is up to nine months.
In conjunction with the Bureau of Reclamation, the first project will be a rehabilitation of the Veterans Lake Dam, intended to bring the dam in compliance with modern safety standards. The second project is the construction of the north shore portion of the Veterans Lake Trail, including a new west trailhead parking area. The North Shore trail will be approximately 1 mile long and be placed between the North Shore Road and the shoreline, with a connecting trail to Rock Creek Campground. The road across the dam and the parking lot at the south end of the dam will be removed and a trail and new parking lot at the north end of the dam will be built as a replacement. The North Shore trail construction will be funded with American Recovery & Reinvestment Act (ie., economic stimulus) monies.
During the construction period access to the Veterans Lake area and the Southwest Perimeter Road will be closed from U.S. Highway 177 to Rock Creek Campground. No access will be available to the Bromide Hill parking area, the north trailhead of the Rock Creek Multi-use trail, the Veterans Lake Trail and the Veterans Lake Pavilion during this time.
Park Superintendent Bruce Noble said, "We want to give area residents who are the primary users of Veterans Lake advance notice of this scheduled closure. I regret this inconvenience to the public, but I firmly believe that these projects will create a safer and more enjoyable area within the park for visitors to use."
Last updated: February 24, 2015