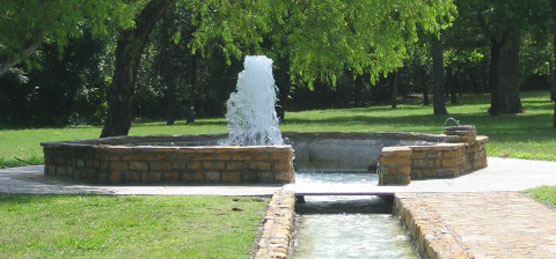 News Release Date:
January 8, 2010
Contact: Eric Leonard, 580 622-7282
The National Park Service would like to invite the public to a public comment meeting, at the park's Travertine Nature Center at 5:00 p.m. on Thursday, January 14, 2010. The meeting will be to discuss proposed changes to the flow rate of the Vendome Well.
The Vendome Well in the Chickasaw National Recreation Area may be the best-known well in Oklahoma (more than 1.3 million people visit the park each year). In 1922, the Vendome well, located adjacent to the northwest corner of Flower Park, was drilled to serve as the centerpiece of a resort development. In 1979, the Vendome Well property was acquired by the park. In 1998, the Vendome well was completely overhauled following the drilling of a new well about twenty feet west of the original well enclosure. The new well had a stainless steel casing to resist corrosion, and the water was piped to the center of the historic concrete enclosure.
The park's General Management Plan called for management of the Vendome Well to reduce the discharge of groundwater during times when it is not being used or enjoyed by the public. Two options would be to shut off the well at night or reduce the flow. Recent data demonstrates that the flow from artesian wells in the vicinity of the Park has dropped 87 to 100% over a 90 to 100 year period. The proposed regulating of the discharge from the Vendome Well is an attempt to arrest the decline in spring and stream flows.
The park was originally established as Sulphur Springs Reservation in 1902 and was formally designated Platt National Park in 1906. According to the legislation that established the park in 1906, "the Secretary of the Interior may, under rules prescribed for that purpose, regulate and control the use of the water of said springs and creeks...." Acting on behalf of the Secretary, park staff have worked hard to carry out these management responsibilities for over a century.