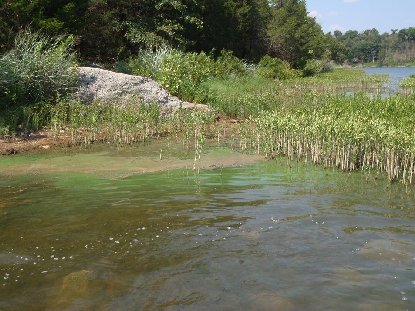 News Release Date:
July 25, 2012
Contact: Dan Winings, 580 622-7281
Contact: 580 622-7262
Areas of the Lake of the Arbuckles Tested Positive for Blue Green Algae
Chickasaw NRA has confirmed the presence of Blue-Green Algae in the Lake of the Arbuckles. Recent testing by the Department of Environmental Quality (DEQ) has shown positive results for small blue-green algae blooms in remote areas of the Lake of the Arbuckles.
Blue-green algae (BGA) are free floating, microscopic organisms naturally present in reservoirs, lakes and streams. They are photosynthetic bacteria, which mean they need light to survive. They are usually found in low numbers, but in very warm, shallow and undisturbed waters that receive a great deal of sunlight, blue-green algae can increase in numbers and form blooms. When these blooms rise to the surface of the water, they can cause the water to look like a thick mat of pea soup or scum and often they turn bluish-green to red in color.
It is important to note that not all blooms produce toxins, but under the right conditions they can produce toxins that are harmful to humans and animals. The toxins produced by BGA may cause a variety of reactions, most commonly upper respiratory problems, skin rashes, eye irritation, vomiting and diarrhea. Adults are not often affected by BGA since they are less likely to be exposed; however, the consumptions or inhalation of BGA can be unsafe. Any contact with BGA can be harmful. Please use caution when boating, waterskiing, swimming, fishing, etc. Take a shower after coming into contact with surface water, whether or not a BGA bloom appears to be present, to wash away any potentially harmful bacteria. Children are more vulnerable than adults because they tend to play in the water and are not as cautious as adults and they are more likely to drink or accidently swallow water when swimming. Children usually weigh less than adults, so a smaller quantity of toxins may trigger a more severe effect. Pets and livestock are particularly susceptible to the harmful effects of BGA.
Chickasaw NRA is asking all visitors to please be aware of their surroundings while enjoying the Lake of the Arbuckles. If you notice any areas of concern, please contact Precious Braggs at 580-622-7262 or email at precious_braggs@nps.gov.