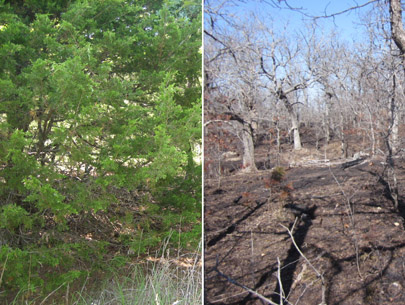 News Release Date:
February 25, 2013
Contact: Dan Winings, 580-622-7282
SULPHUR, OK - Chickasaw National Recreation Area started a series of prescribed burns on February 1, 2013. As of Friday, February 22, approximately 2,180 acres have been treated with prescribed fire in the Five Lakes, Hunting, Point, and Golf Course areas.  Fire managers plan to continue burning in the South Boundary area as long as conditions are favorable. They anticipate completing ignitions by the end of the month. Approximately 2,700 total acres will be treated as part of this project.
Smoke from these prescribed fires may be visible from I-35, in downtown Sulphur, Davis, Dougherty, Rock Creek, Veterans Lake, Buckhorn areas, Goddard Youth Camp Road, and along Chickasaw Trail, but every effort will be made to minimize smoke impacts. Smoke, however, is a natural byproduct of fire and some amounts are unavoidable. Periodic prescribed burns prevent heavy fuel accumulation that would send a larger amount of smoke into the air should an uncontrolled wildfire occur. Reducing eastern red cedar now will also reduce the impacts of smoke in the future. While smoke will be present in the vicinity during burning, it is generally expected to settle over the Lake of the Arbuckles and disperse overnight. If you would like to receive daily updates on which burn unit will be ignited and predicted direction of smoke impacts, please call 580 622-7282 or visit http://www.inciweb.org.
These prescribed fires are burning slash from thinned eastern red cedar cut during the summer and fall of 2010 and 2012 as part of a $1.4-million American Recovery and Reinvestment Act (ARRA) project.   This eastern redcedar reduction project will open up views around the park, improve wildlife habitat, reduce wildfire hazard, conserve water in the Arbuckle Simpson aquifer, and reduce pollen levels.
The National Park Service's prescribed fire program helps protect local communities by reducing the buildup of vegetation near homes along the park boundary. This will help minimize the intensity and reduce the spread of unplanned wildfires in the future.  These prescribed burns are also promoting the natural ecosystem's ability to thrive.  The areas burned will return to their natural state of mosaic grasses and savanna, with a combination of grassland and woodland in which trees are widely scattered.  Native grasses are highly adaptive to Oklahoma's climate and will withstand future fires and drought. Habitat improvement from the fires will also contribute to increases in species such as deer and turkey and thereby improve hunting opportunities.
For additional updates, maps, and photos for the Red Cedar Reduction prescribed burn, please visit
http://www.inciweb.org.