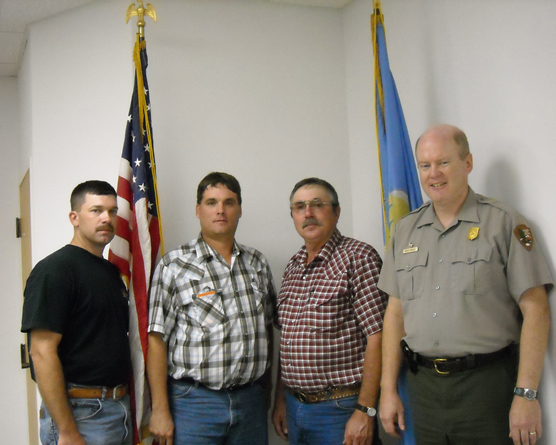 News Release Date:
August 20, 2010
Contact: Eric Leonard, 580 622-7282
A total of $21,000 of federal funds will be distributed to three local departments, says Chickasaw National Recreation Area Superintendent Bruce Noble.
"Chickasaw National Recreation Area has long depended on support from the local fire departments. Our rural fire partners are often the only firefighting resources immediately available to protect government property," said Chief Ranger Dennis Weiland, program manager for wild land fire suppression in the park. On behalf of these departments, Chickasaw NRA applied for Rural Fire Assistance grant funding to enhance the rural fire departments wildland fire suppression capability.
The Hickory Volunteer Fire Department received $9,000, the Joy Volunteer Fire Department received $4,000 and the Sulphur Fire Department received $8,000. Funding is targeted for wildland fire personal protective clothing, wildland fire equipment, training, and communications equipment.
Beginning with the National Fire Plan which established funding in FY2001, and continuing since, the National Park Service has been able to help local cooperators through the Rural Fire Assistance Program. The Rural Fire Assistance Program is primarily designed to increase firefighter safety and enhance the wildland fire protection capabilities of rural fire departments. Priority is given to departments who pursue accepted standards of wildland fire personal protective equipment, training, and communications. Emphasis is placed on departments that protect rural communities and play a substantial cooperative role in the protection of NPS lands and support interagency fire efforts.  
Each rural fire department must meet a minimum of six eligibility criteria to qualify for the funding including a formalized cooperative relationship between the NPS and the rural fire department, the rural fire department serves a community with a population of 10,000 or less with wildland/urban interface, funds are limited to wildland fire training, wildland fire related equipment or supplies, and the rural fire department must meet a cost share minimum of 10%.