The Lincoln Bridge
This stone bridge, connecting the Flower Park area and the city of Sulphur to the mineral springs south of Travertine Creek, was built in 1909. The bridge is the first and oldest developed structure built in Platt National Park [the present-day Platt Historic District].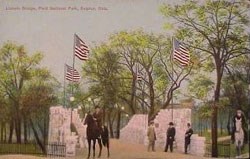 The bridge was dedicated on February 12, 1909. In honor of the centennial of Abraham Lincoln's birth on that same day, the bridge was christened, "The Lincoln Bridge." The bridge rapidly became a favorite scenic spot within the park, confirmed by the multiple postcard views taken of it in the early 19th century.
For one hundred years the Lincoln Bridge has been a park landmark and a treasured part of the cultural landscape.
Where to find it
In the modern park, the Lincoln Bridge is very nearly hidden in plain sight. The bridge is located on the southern edge of Flower Park, immediately southwest of the intersection of Highway 7 and 177.
From Highway 7, the bridge can be found by taking the first road to the right after turning south. Traveling north on Highway 177, turn left after the the turns to Hillside and Pavilion Springs, but before the turn for the Nature Center.
The bridge is located on the north side of the perimeter road; parking is available on both sides of the road.

Last updated: February 24, 2015