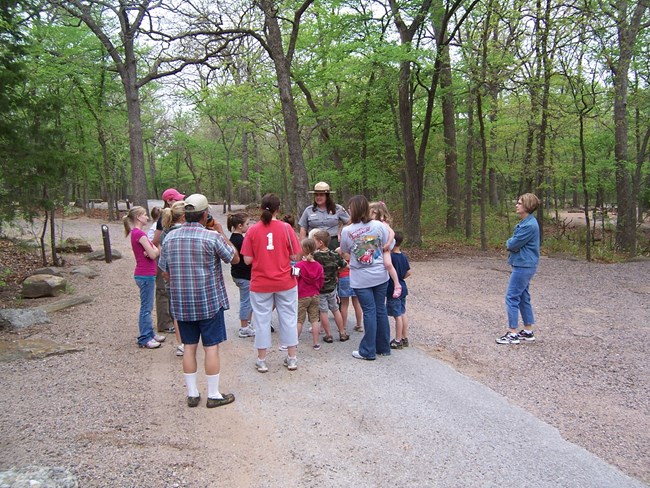 If you prefer to plan a self-guided trip to Chickasaw National Recreation Area, the ideas below will give you a good start. Park staff can also help educational group leaders plan a visit to the park. Some planning materials may be available upon request.
Junior Ranger Program
Designed for families visiting the park, the Junior Ranger Program can be adapted for use by organized groups. To become a Junior Ranger, young visitors must complete activities in the Junior Ranger program booklet and, when available, attend a ranger-led program. Upon completion, the child earns a signed Junior Ranger certificate, official Chickasaw National Recreation Area Junior Ranger badge, and a patch. Junior Ranger booklets are available online for printing and at the Travertine Nature Center year round. Please call ahead if you are bringing a group to complete the program, 580 622-7234.
Ranger-Led Activities
Ranger-led walks, talks, and campground amphitheater programs, geared for general audiences, are given on a regular basis from Memorial Day to Labor Day each year. Weekend Ranger talks are given throughout the year. Contact the Travertine Nature Center, 580 622-7234, for the current schedule.
Take a Hike
Explore miles of trails in the park with your students. Get a closer look at the park's natural and cultural resources by wandering through forests and prairies, and along streams and lakes. Visit freshwater and mineral springs and Civilian Conservation Corps-built structures.
Other Activities
Chickasaw offers a wide variety of activities that can provide fun learning experiences for your students. Explore this website to explore other things to do while you're here.
Need more information or ideas for self-guided visits? Contact the Education Coordinator, 580 622-7234.