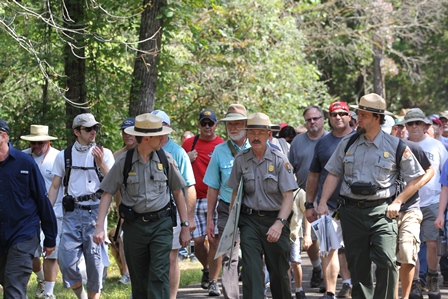 Chickamauga and Chattanooga National Military Park offers a variety of regularly scheduled ranger-guided tours. Be sure to check back soon for information about our Summer 2016 program schedule.
At Chickamauga Battlefield, ranger guided car caravan tours take place at 10 am and 2 pm on Saturdays and Sundays. These tours typically last around two hours and begin at the Chickamauga Battlefield Visitor Center. You will drive your own vehicle in a car caravan, following a park ranger to various locations around the battlefield. At each stop, the ranger will share stories about what happened in that area. Car caravan tours do not require much walking, be prepared to stand for 15-20 minutes at a time. There are no fees for admission or programs at Chickamauga Battlefield.
At Point Park on Lookout Mountain, ranger-guided tours take place at 11 am and 2 pm on Saturdays and Sundays. These are walking tours that typically last 30-45 minutes. Visitors walk with a park ranger along the paved path around Point Park and learn about the history of Chattanooga and the park. Programs begin just inside the gate at Point Park. Admission to Point Park is $5 per adult, ages 16 and over (15 and under are free).
If you are a teacher, and are trying to schedule a ranger-guided program for your class field trip, please visit our Field Trips page. If you are planning a tour for a community group such as a Sunday School class, veterans' organization, or Sr. Citizens group, fill out and submit this form.
**Please note that all programs are subject to change based on weather and staff availability.**
_____________________________________________