Date & Time

Multiple Days: 04/19/2017, 04/20/2017, 04/21/2017, 04/22/2017 7:00 PM

Fee Information

Free!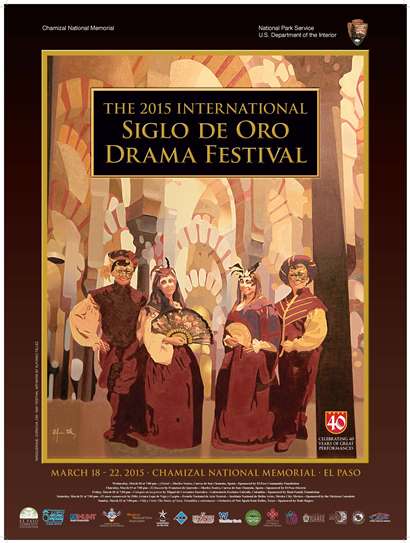 Franklin G. Smith, the first Superintendent of Chamizal National Memorial, wanted a special event for a fledgling park to mark the United States Bicentennial in 1976. Having already been inspired by discussions with El Pasoans, a Siglo de Oro drama festival seemed an appropriate way to celebrate both of these neighboring countries whose conceptions were forged by that Golden Age of art and exploration. Forty years later, the Festival has become its own celebration. The 42nd Siglo de Oro Drama Festival will run for four nights. General admission tickets are free and will be issued first-come-first-served only to those present, beginning at 6 pm the evening of each performance. Call 915-532-7273 for information or go to our Siglo webpage. 
Franklin G. Smith, el primer director del Parque Nacional El Chamizal, quería un evento en que el parque pichón pudiera reconocer el bicentenario de EE.UU. en 1976. Ya inspirado por unas pláticas con gente de El Paso, le pareció que un festival de teatro del Siglo de Oro podía celebrar los dos países aquí vecinos, los cuales se concibieron por esa época de logros artísticos y de exploración. Cuarenta años después, el festival es su propia razón para celebrar. El 42 Anual Festival Internacional de Teatro del Siglo de Oro dura cuatro días. Los boletos son gratis y de entrada general. Comenzando a las 6 pm cada día del festival se entregan los boletos a los que están presentes en orden de llegada o de la fila. Llame al 915-532-7273 para información.
The Heresy of Love 
The Heresy of Love 
Written by contemporary British playwright Helen Edmundson and performed in English, this modern work inspired by the life of Sor Juana Ines de la Cruz depicts the clash between church and state while also examining women's rights in a censored society. Sister Juana, the main character, finds her freedom of expression threatened by the arrival of a new archbishop at her convent. Performed by The School of Theatre and Dance at Illinois State University (US, in English)   April 19th (Wednesday) at 7:00 p.m. 
¿Qué con Quique Quinto?
Loosely based on Shakespeare's Henry V, this unique production features the ñaque performance style where a limited number of actors portray a series of distinct characters. Its whimsical premise features Foca, Zote and Ariel sailing on the Nautilius Cabaret, a boat that navigates the world of imagination. Among the hundreds of characters they travel with is the young King Henry V. Accompanied by a cabaret-style musical score, the show promises to deliver a charming spectacle. Performed by Cabaret Misterio and EFE Tres Teatro (Mexico, in Spanish)  April 20th (Thursday) at 7:00 p.m. 
At its core, this fast-paced satirical work is commedia dell'arte, the Italian style of stage performance featuring exaggerated masks and classical archetypes. It tells the story of Señor Pantalone, a cloth merchant bewildered by troubles in business and distress in his household. Come experience the witty interplay between servants and masters. Watch as the characters on stage force each other to confront their personal fears and pasts, as well as hold up a critical mirror to contemporary society. Performed by Compañía de Teatro Reymala (Canary Islands, in Spanish) April 21st (Friday) at 7:00 p.m.
El Retablo de las Maravillas
Arguably the most traditional work in this year's festival, this play is a classic Cervantes entremés (comedic one-act performance). Presented by Morfeo Teatro, a seasoned acting troupe admired and recognized by regular festival attendees, the play is a biting satire criticizing social hypocrisy in 17th century Spain. The emperor's-new-clothes style premise centers on a couple of rogues who come to town intent on playing a ruse with their retablo (a small puppet stage) by making local authorities believe that their play magically reveals its wondrous marvels exclusively to high-born citizens. Featuring a captivating stage setting inspired by Picasso's Guernica, this will surely be a must-see performance. Performed by Morfeo Teatro (Spain, in Spanish) April 22nd (Saturday) at 7:00 p.m.