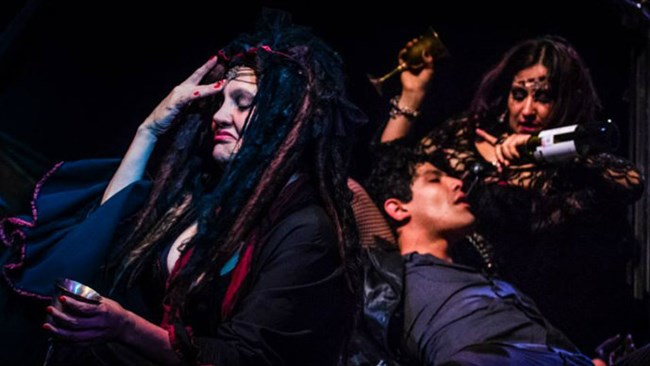 Also known as
La Tragicomedia de Calisto y Melibea
,
La Celestina
is a foundational work from the beginnings of the Siglo de Oro and interested the theater company Telón de Arena because it was conceived in the frame of mind of the Medieval period while transitioning into the Renaissance, a key period in Western history.
Celestina is the matron and an independent agent of eroticism since she searches out her own pleasure in her trade. She harbors nostalgia for forbidden pleasures, and by her sublimation of the erotic, the moral precepts of an age are overthrown, an age perhaps similar to ours with regard to taboos, prejudices and prohibitions... The story takes place in a dive called El jardín del Halcón (The Falcon's Garden), Celestina's property and the place where she handles her legitimate and illicit business of, "...dressmaker, master of making potions and virgins, matron, pimp and witch," and thus alludes to themes such as prostitution and trafficking in women.
Although some elements of the original story are altered in this interpretation, an effort was made to to maintain the spirit of the work which in its time was a masterful, bold, and irreverent literary composition about passion and carnal love, and which even served as a lesson for new and naive lovers whose real power lay not in their magic formulas, but the irrefutable power of language.
Telón de Arena Telón de Arena is a professional theater company from Ciudad Juárez, Mexico. It became a business in 2002, and is dedicated to the production and promotion of performances with a clear social agenda, beginning with theater itself. Their mission is to increase the opportunities for human developments among the residents of Ciudad Juárez, creating conditions that contribute to the full exercise of their cultural rights.