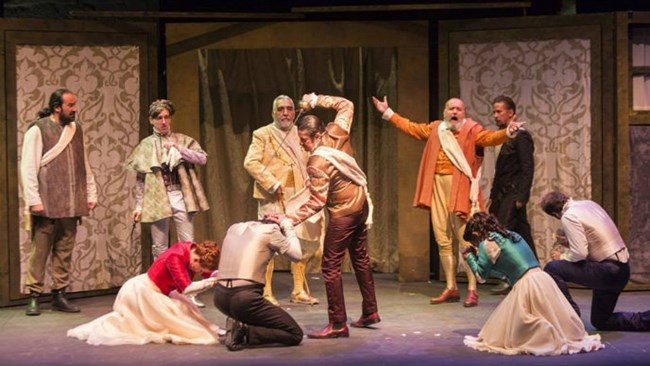 This comedy is set in Madrid and includes among the protagonists two sisters and their beaus, one a butler and the other the secretary to a count. These two couples, whose relations have been in secret up to the moment, find themselves compromised by the arrival of two new suitors: the count himself, who longed for one of the ladies, and a rich gentleman who woos the other with the consent of her father. The sisters' schemes to thwart their suitors leads to a game of hide-and-seek, mistaken identities and a tangled web of deceit. The web unravels when the immediacy of a wedding causes the involved characters to reveal everything that had happened and look for a solution to the conflict that will lead to a happy end for the protagonist couples.
Though Lope de Vega referenced a play of this title, it was never published. For the last 400 years, his Mujeres y Criados was considered lost to time. However, due in part to connections facilitated by modern technology, it was discovered that a handwritten manuscript copied in 1631 and stored in the National Library of Spain was in fact a copy of Lope's original script. Over the past few years, Fundación Siglo de Oro has worked to bring life to this piece that was absent from the stage for so many years. They have performed the comedy around Europe and Latin America, but their performance at Chamizal National Memorial will be its debut in the United States.
Rooted in the origins of the company RAKATá, Fundación Siglo de Oro has become a platform for creation and exchange of knowledge and a reference in the classic theatre sphere. Since 2006, Fundación Siglo de Oro has brought to the stage great works from authors of the Golden Age, obtaining international recognition.
One of the main objectives of Fundación Siglo de Oro is the diffusion of knowledge of the texts from Golden Age Theatre. This is accomplished through the educational and formative work developed by Fundación Siglo de Oro, including outreach in schools with the intention of creating new audiences as well as the education of new professionals in the field.
Prior to their performance of Mujeres y Criados for the 2016 Siglo de Oro Drama Festival, Fundación Siglo de Oro will hold a workshop which will be the culmination of a translation project which, among other objectives, seeks to produce English translations of Lope de Vega plays for performance. The public is invited to attend a rehearsal of the groups' translated work from 1:00 to 4:00 p.m. on Tuesday, March 29, 2016.