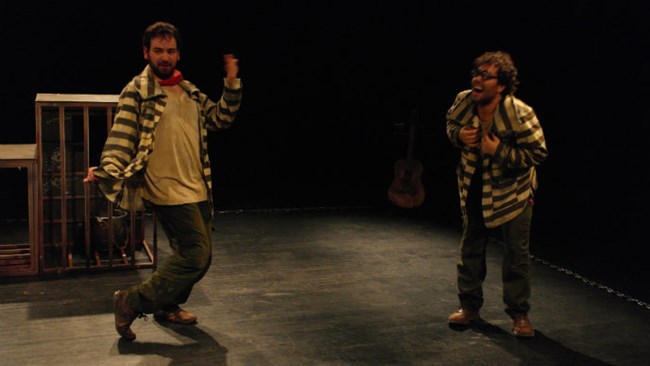 El Príncipe Ynocente,
one of Lope de Vega's lesser-known plays, clearly shows that the classics still have much to tell us. This performance brings back the
ñaque
style of theater in which two actors perform the parts of all of the characters in a play.
This show employs a minimalist set and uses only items that would be available in a jail, which is where the two prisoners who tell the story of El Príncipe Ynocente find themselves. In this setting of games, craziness and changing characters, a set of cards is converted into a ladies' fan, a broom into the town elder's cane, a nut into the prince's ring, and even their cell is transformed into a variety of spaces.
In the story told by the two prisoners, Prince Alexandro was banished and asks the Duke of Cleves for help in recovering his kingdom. He then meets Torcato who has been invited to the palace. Together, while plotting a revenge to recover the throne, they share romantic intrigues with the duke's daughters.
El Príncipe Ynocente is a production by the Mexican company EFE TRES, formed in 2012 by a team of theater arts professionals. This company loves the classic texts and has particular interest in endowing them with a modern feel to restore a connection and attractiveness to young people and to not be a typical classical theater performance.
The company has presented
El Príncipe Ynocente
at the main venues in Mexico City as well as cities around Mexico, such as Guanajuato, Monterrey, Oaxaca and others. In 2015, they were selected to participate in the Festival Internacional de Teatro Clásico, Almagro Off, in Spain.