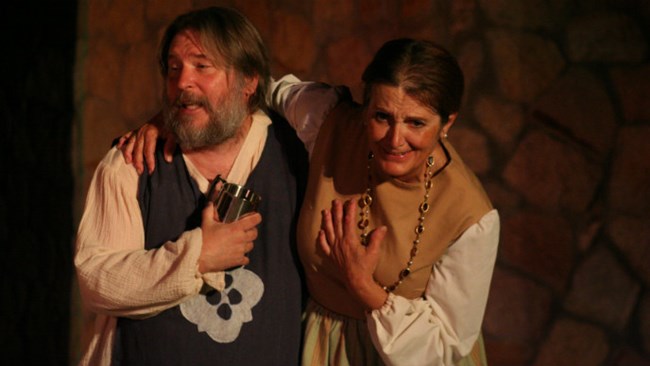 To mark the 400th anniversary of the death of Miguel de Cervantes Saavedra, one of the most well-known Siglo de Oro writers, Eden Enterprises, in collaboration with Shakespeare-on-the-Rocks and Los Actores Bilingual Theater Company, is performing three entremeses written by Cervantes. An entremes is a short intermission piece that was meant to be performed between the acts of the main play. These works were usually written independently of the full-length play and were not meant to tie in with that story.
El Juez de los Divorcios
Four couples seek a divorce before the judge. Their complaints and the judge's reluctance to grant them what they seek provide a wealth of humor. This entremes is also being performed by Eden Enterprises to provide educational opportunities for local schools. As part of the education outreach effort that Chamizal National Memorial provides to accompany the Festival main stage performances each year, Eden Enterprises will have presented a performance for educators during the Siglo de Oro Festival Teacher Workshop and ten performances for students both at their schools and in the Chamizal National Memorial Theater. This entremes will be performed in Spanish.
The Marvellous Puppet Show (El Retablo de las Maravillas)
Cervantes lived during the Spanish Inquisition and a period marked with great prejudice against Jews and Muslims. With a story that will remind some of The Emperor's New Clothes, this piece seems to have been influenced by that culture as two swindlers try to convince the townspeople that only people with pure Christian blood can see what they have to offer. This entremes will be performed in English from a translation.
La Cueva de Salamanca
"While the cat's away, the mice will play," could be the summary of this story. An unfaithful housewife and her maidservant are surprised by the unexpected return of the master of the house. The presence of their lovers, unable to escape without detection from the house, is "explained" through the quick-thinking trickery of another houseguest. This original entremes will be performed in Spanish.