The Blues:  We All Get Them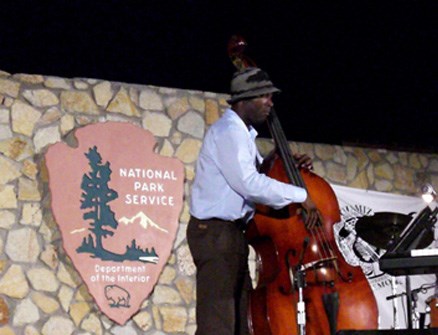 Your pet dies, you get the blues. You burn dinner, you get the blues. The one you love leaves you, you get the blues. But are blues really all about the bad times? The term "the blues" refers to the "the blue devils", meaning melancholy and sadness; but often the songs were humorous and even raunchy.
History of the Art Form
Blues is the name given to both the musical form and to the genre created within the African-American communities in southern Texas and in the Deep South. Blues music is rooted in chants that southern slaves would speak or sing while working the fields. Following the Civil War, spirituals, work songs, field hollers, shouts, chants, and rhymed simple narrative ballads were sung by freed slaves in their churches and communities. In the early 1900s performers took blues music on traveling shows and played nightly in southern juke joints, and thus, the Mississippi Delta Blues were born.
As African Americans moved north into urban areas, they took blues music with them. Several recording studios took note of this popular new musical style and in the 1920s blues records were released. By the 1950s, the blues were played with electric guitars in big cities like Chicago and Memphis. Once rock and roll flooded the radio waves, blues music faded into the background. However, in the late 1960s, rock and roll artists began experimenting with the blues style. Artists like Janis Joplin, The Rolling Stones, Jimi Hendrix, Ry Cooder, even Fleetwood Mac helped revive blues music. In fact, The Rolling Stones took their name from a Muddy Waters song titled Rolling Stone. Today, this blues-rock fusion can be heard on most radio stations, as can the many styles of blues that all started with the "call and response" style of work songs sung by slaves over 200 years ago.
Music
The interplay between the guitar and voice give blues music its distinction. The singer sings a line and his guitar answers him. Early blues had a narrative quality to it. Lyrics were spoken, not sung. Many blues artists today speak their lyrics, instead of singing them.
Once the blues became urbanized, a more structured style appeared. In this style, the blues are primarily sung one of two ways; in rhyming couplet or 12-bar. The rhyming couplet style is simple and straightforward. For example; Jimmy Cox's Nobody Knows You When You're Down and Out (1922)
Once I lived the life of a millionaire.

Spent all my money; I just did not care.

Took all my friends out for a good time;

Bought bootleg whiskey, champagne and wine.
When the blues are played in the "12-bar blues", one of the most popular chord progressions in modern music, the lyrics follow an AAB pattern. For instance, in Bessie Smith's Empty Bed Blues (1928),she repeats line one, and then sings a third:
Woke up this morning with an awful aching head

Woke up this morning with an awful aching head

My new man had left me, just a room and an empty bed.
Costumes
With blues music, what a performer wears is as varied as the style of blues they will play. Some blues musicians wear a tux or evening gown while others prefer a more casual look of a tee-shirt and jeans.
Instruments
The most prominent instruments used to perform the blues are the guitar and the voice. However, many of the different styles of blues music use different instruments. The Delta Blues uses a slide guitar that was historically played by sliding a knife or broken bottleneck along guitar strings! Urban and Jump Blues were influenced by the big band sound of the 1930s and 40s; therefore pianos, saxophones and other brass instruments were played. The Chicago or Electric Blues features electric guitars, bass guitars, drums, and harmonicas. The electric guitar is the most popular instrument in Texas Blues while the washboard, fiddle, kazoo, and mandolin are signature instruments in the early Memphis Blues.
Song topics
Like any other art form, the blues are about self expression. Most blues lyrics revolve around hardship of African American life, political events, love and loss, teen angst or misery and oppression. However, some blues songs are more upbeat with lyrics speaking to rock and roll, religion and sexual prowess.
Regional differences
The Delta Blues, where blues began, features passionate vocals, harmonica and slide guitar. Muddy Waters is an accomplished Delta Bluesman. Many people are familiar with B.B. King, who sings the Memphis Blues. This Tennessee-style is typically livelier and may be played with an electric guitar. Memphis Blues may also have some jazz mixed in, as do the Chicago Blues. This more sophisticated uptown blues sound has brass and piano accompaniment and can be a livelier, dance version of blues, such as Chuck Berry. Jump Blues and Boogie Woogie styles are found here.
Closer to home are the Swamp Blues, New Orleans Piano, and the Texas Blues. These styles are more relaxed than their northern cousins. Jimmy Reed plays simple tunes on the harmonica, typical of the Swamp Blues while Fats Domino beguiles the crowd playing New Orleans Piano style, which mixes jazz, a piano and that famous New Orleans beat. Texas Blues, played by artists like Stevie Ray Vaughan, ZZ Top, even Willie and Waylon, feel more relaxed than other blues styles. Electric guitar, acoustic guitar or slide guitar; if its played with a single string jazzy solo, its the Texas Blues.
Modern form
The blues have drawn many modern popular artists to its musical flame. Eric Clapton, Susan Tedeschi and Taj Mahal have all released blues albums. Other blues-influenced artists, like Erykah Badu and John Mayer, are interweaving their genres with the blues, bringing this innovative musical tradition to new generations around the world. From bridging the gap between minorities and mainstream America to connecting the troubles of a blues-singing slave with those of modern man over 2 centuries later, the legacy of blues music is its ability to unite people throughout cultures and throughout time. After all, we all get the blues.
Can I listen to Blues music at Chamizal National Memorial?
In the past Chamizal National Memorial has hosted blues and jazz festivals as well as blues performers at the Music Under the Stars (MUTS) summer concert series. Check the calendar of events or inquire at the visitor center for further information.
To return to the Cultural Performances home page, click here.
Last updated: February 24, 2015