The Memorial's Spanish Drama Festival
Each year, the Siglo de Oro Spanish Drama Festival is represented by a promotional poster featuring the original artwork of an area artist. Poster artists are selected by a panel composed of park employees, members of the community, and the park's friends group. What began in 1976 as an amateur student competition has evolved to now include some of the borderland's best professional artists and graphic designers. The festival, now the oldest of its kind in the world, has developed an international following with requests for promotional materials and posters coming from across the United States, the Spanish-speaking world, and academic communities.
Because Siglo de Oro posters travel around the community and globe representing Chamizal National Memorial, the panel carefully chooses artwork that best captures the time period and feeling of Spain's Golden Age and the Siglo de Oro Spanish Drama Festival.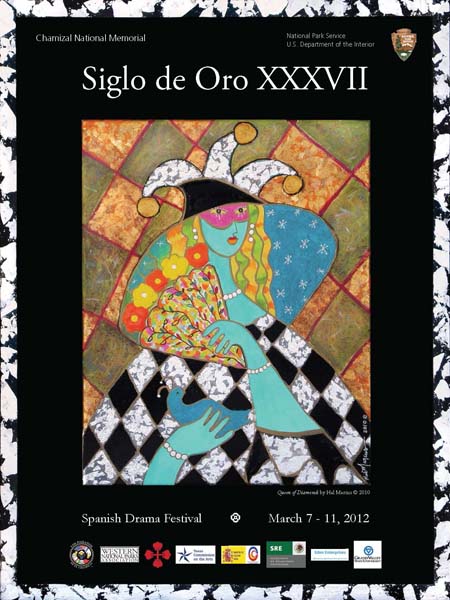 The "call to artists" goes out each year in early April with artists being given a minimum of two months to submit original artwork for competition. While all artwork remains the property of the artist, the National Park Service requests the right to use digital images of the art for poster and other promotional production. In addition to receiving poster copies, winning artists are given the opportunity to display additional artwork in an exhibition coinciding with the festival. Check at the bottom of the main Siglo page for more information and to download the necessary forms.
To learn more about the Siglo de Oro poster art competition, please contact the park's Chief of Interpretation, Education, and Arts.
To view Siglo de Oro posters from past years, visit our online gallery.
Last updated: February 24, 2015