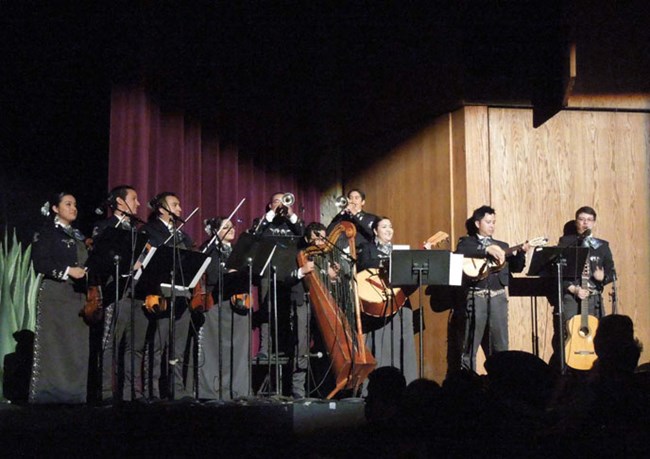 New Orleans is famous for jazz and Scotland for its bagpipes.
Mexico
is famous for mariachi. A term which refers to the person, the group, and the music (a mariachi plays mariachi in a mariachi!), mariachi began in Jalisco, Mexico and has been thriving and surviving throughout the country for decades. Mexico's native tongue is celebrated outside of the country as well. You won't have a difficult time finding mariachi radio stations in the U.S. southwest. Mariachi was even played in the opening ceremonies of the 2008 Olympic Games in China!
History of Mariachi
Mariachi began as a rural tradition in western Mexico, probably in the 1880s. Gradually, as more people went urban, mariachi became commonplace in the city. It was in 1898 in Mexico City that Mariachi Vargas, the oldest and one of the best-known mariachi groups in the world was founded. A few decades later, in 1934, at President Lazaro Cardenas' request, mariachis played at his inauguration. In recent decades, mariachi has become rather common in the United States, especially in the borderland.
Music
Mariachi is played in numerous styles. The popular Mexican song Cielito Lindo (Beautiful Heaven), with its "ay, yay, yay, yay, yay, canta y no llores," is a classic version of the country style known as the ranchera. The Son is a common folk style, combining elements of African beat, Andalusian gypsy, and indigenous Mexican. Finally, the Jarabe style consists of music that many people dance to. The jarabe was established as the national dance of Mexico in 1924.
Costumes
Perhaps what makes mariachi musicians most recognizable are their elaborate costumes. Musicians wear a three-piece suit, boots, and usually custom embroidered ties, belts, and buttons. No mariachi outfit is complete without the extremely wide-brimmed sombrero. The mariachi uniform evolved directly from the uniform worn by the gentleman cowboys, or charros, in the Mexican rodeo.
Instruments
In traditional mariachi, instruments such as the acoustic guitar; bass guitar; high-pitched five-string guitar; violin; harp; and trumpet are played. The accordion and harmonica are common in many contemporary groups. In mariachi, it's common for every band member to not only play an instrument, but also sing.
Song Topics
Song topics in mariachi are diverse, ranging from love and happiness to heartbreak and anger. The ranchera genre of mariachi includes songs about lost love and longing as well as pride and joy. The jarab­e style promotes dating and courtship. Another style, known as the corrido, tells stories that can be either historical or fiction.
Regional Differences
Many Mexican states and regions have a popular mariachi style. In the southeastern state of Veracruz, the son jarocho is famous for its improvisations and flashy solos. In central Mexican states such as San Luis Potosi and Hidalgo, the Huapango is a popular mariachi variant. In the Huapango style, the violin represents the backbone of a complex rhythm.
Modern Form
Modern mariachi is performed much like traditional mariachi. However, many contemporary mariachis use nontraditional instruments such as the harmonica and accordion. Many Mexican-Americans, as well as other cultures throughout the world, view mariachi as a direct link to traditional Mexico, to a celebration, or to a cultural identity.
When Can I See Mariachi at Chamizal National Memorial?
Live mariachi performances are commonplace at Chamizal National Memorial. Mariachis accompany most ballet folklórico groups onstage and it's tradition for the Music under the Stars summer concert series to have a mariachi perform at the last concert of the year in mid-August. Check the memorial's calendar of events page to see when the music of Mexico will be performed next. Viva mariachi!
Text largely based on Patricia Greathouse's Mariachi, published in 2009 by Gibbs Smith Publishers.