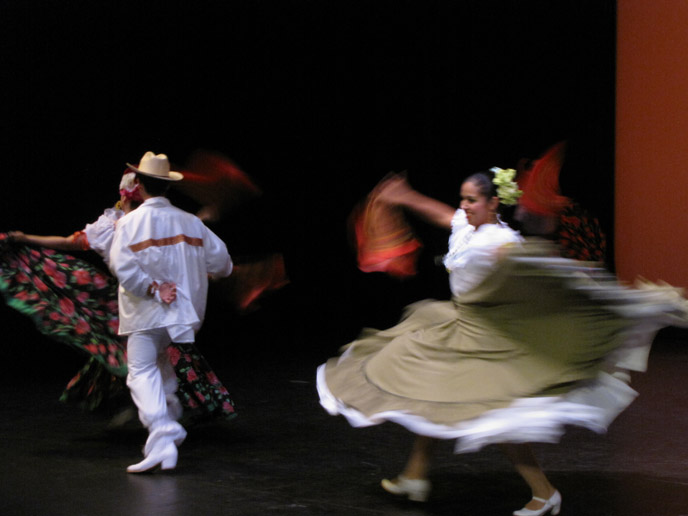 A woman with a warm smile on her face twirls her multicolored skirt round and round. Clicking his boots on the hardwood floor, a man in a three-piece suit dances circles around the senorita. This is a unique example of ballet folklórico, a broadly used term to describe all forms of Mexican folk dancing.
History of Ballet Folklórico
Although Mexican folk dancing occurred long before Amelia Hernandez in the 1950s, Hernandez played a significant role in formalizing and popularizing the art form. A lifelong resident of Mexico City, Hernandez founded the first school dedicated to ballet folklórico in 1958, and she herself choreographed over 30 different ballets. Then Mexican President Adolfo Lopez Mateos (the same president that in 1964 signed the Chamizal Treaty with U.S. President Lyndon B. Johnson in El Paso) very much enjoyed Hernandez's dance group. As a result, President Lopez Mateos permitted the group to perform on Wednesday evenings and Sunday mornings at the National Institute of Fine Arts, where these weekly performances continue to this day!
On the U.S. side of the border, ballet folklórico was popularized in the 1960s and 70s, specifically in Los Angeles and El Paso, two cities with large Hispanic American populations, as a way to promote pride in Mexican cultural heritage and to enhance self esteem. Today, many young men and women in the Sun City, and throughout the nation, enjoy learning, practicing and performing ballet folklórico. This artistic form of communication unites Hispanic Americans across the country, giving them a sense of community and cultural pride, as well as allowing the community to share their heritage with others. What style of dance best represents your own heritage? Do you know the origin or the story that lies beneath?
Music
Ballet folklórico is almost always accompanied by traditional Mexican mariachis. For more information on mariachi, click here. Other styles of music that accompany ballet folklórico include polka and Tejano.
Costumes
Generally, male dancers wear black slacks; a black, wide brimmed hat (sombrero); and a red belt and tie. Women traditionally wear full, colorful skirts with either black or white boots. The costumes hint at the heritage of the region. For example, both German and ranching heritages in Nuevo Leon show up in the cowboy hats, boots and fringe of the male costumes. In Veracruz, with its Spanish, African and Caribbean influences, costumes are generally white with red sashes and straw hats. In the state of Jalisco, the birthplace of mariachi music, male dancers wear sombreros and charro, or cowboy, clothing while the women weave brightly-colored ribbons in their skirts, reminiscent of the local indigenous cultures. In Michoacán dancers traditionally wear masks and use canes to perform the Baile de los Viejitos, or Dance of the Old Men, a dance that mocks the Spanish ruling class. A representation of this dance can be seen outside our visitor center on the Nuestra Herencia mural.
Instruments
Mariachis typically play music behind ballet folklórico dancers on stage. Traditional mariachi includes an acoustic guitar; bass guitar; high-pitched five-string guitar; violin; harp; and trumpet.
Dance Topics
Ballet folklórico combines elements of Mexican culture, history, folklore, and religion with rhythm and body movement. Dance topics vary from region to region and state to state. Some dances depict Mexico's complicated history, interpreting events such as the Mexican Revolution. Other ballet folklórico dances focus on key religious events, such as when Juan Diego had a vision of the Virgin of Guadalupe in December of 1531. Still other Mexican folk dances focus on the culture and folklore surrounding holidays such as the Day of the Dead and Cinco de Mayo.
Regional Differences
Mexican folk dancing varies from region to region. In Guadalajara, the Jarabe Tapatia, or Mexican hat dance, is popular. The Jarabe is a courting dance and also the national dance of Mexico. In Guerrero, many folk dances mimic animal movements-the Iguana is a popular dance. Finally, in the northeastern state of Nuevo Leon, polka and Tejano music combine to form a distinct folk dance.
Modern Form
Since ballet folklórico dance topics largely fall under Mexican history and culture, modern forms of Mexican folk dancing essentially remain traditional.
When Can I See Ballet Folklórico at Chamizal National Memorial?
Of all the cultural performances that Chamizal National Memorial hosts, ballet folklórico is the most common and most popular! Ballet folklórico performances usually occur one weekend per month in the Memorial's theater. Check the calendar of events to see when the next performance of Mexican folk dancing will occur.