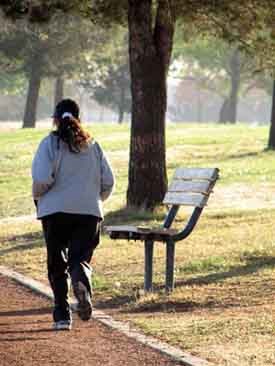 Outdoor Ethics Aren't Just for Wilderness Areas
Visitors to Chamizal National Memorial are invited to picnic, play games, relax, fly kites, exercise, and much more on our grounds. Whether you have a large group for a game of soccer or want to spend the early morning jogging our paths, please remember national park Leave No Trace ethics.
Dispose of waste properly. Chamizal provides trash cans for garbage, recycle bins (blue bins for plastic, aluminum, and paper products), and ash cans to dispose of charcoal and BBQ ash. Glass containers are not allowed in the park at any time.
Wild creatures are protected here. Chamizal, as part of the National Park Service, serves as an urban protective harbor for wildlife within the memorial boundaries. Please do not disturb or feed wild animals. Enjoy them from a distance. Please remember to keep your pets leashed at all times so that they don't disturb the animals.
Respect other visitors. Remember to keep music at a comfortable volume. Others may be visiting to find solace and relaxation. When walking our trails, yield to joggers and others walking by.
Remember to leave what you find. As a national park site, collecting of any item (natural items, rocks, plants, historic or cultural) is prohibited. You may look and you may touch, but please leave the items for others to enjoy.
For more information on Leave No Trace ethics, click here. (clique aquí)