Information Centers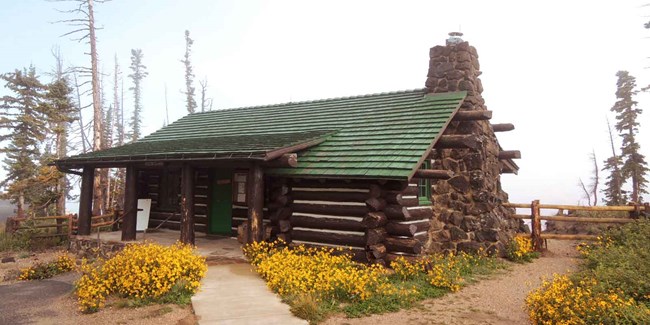 Information Center at Point Supreme
Open: Daily from late-May to Labor Day, 9:00 a.m. to 6:00 p.m
Phone: (435) 586-0787 ext. 4031
Special Programs: Daily ranger talks
Exhibits: yes
Available Facilities: Restrooms are located at the parking lot near the fee station. Books and souvenirs are also available for purchase.
The Information Center at Point Supreme was built in 1937 by a crew from the Civilian Conservation Corps (CCC). Originally used as a museum and office, it later became the information center and book-store after the Cedar Breaks Lodge was demolished in 1972. Learn more about our Historic Visitors Center Here.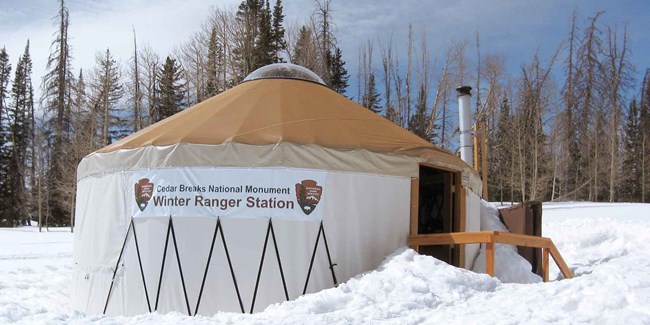 Winter Ranger Station
Open: 10:00 AM –2:30 PM Most Saturdays and some Sundays from January to March. (Volunteer staffing varies and is very dependent on snow depth and weather.) The winter ranger station is not open for public use unless staffed by a Cedar Breaks volunteer. For more information on accessing the park and winter station in winter, visit our winter access page.
Phone: There is no phone contact at the winter ranger station, please call Cedar Breaks' offices in Cedar City with questions, or learn more about the Winter Ranger Station here.
When staffed by volunteers, the Winter Ranger Station usually has hot cocoa and a hot wood oven to warm up by. There are no exhibits or restrooms. During the months of January through March Cedar Breaks offers guided snowshoe hikes to the winter ranger station and back.
Last updated: December 5, 2016