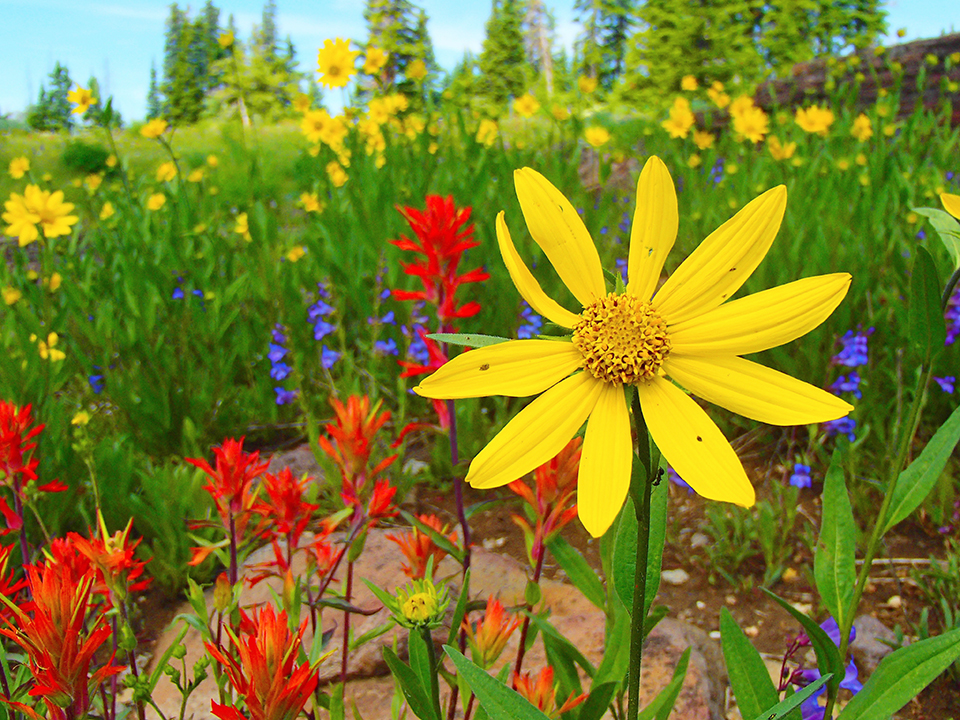 News Release Date:
July 2, 2018
Contact: Cedar Breaks Information Center, (435) 586-0787 x 4031
This July 7-22 in celebration of its colorful wildflower displays, Cedar Breaks National Monument is hosting its thirteenth annual Wildflower Festival and introducing its new Family Discovery Center, located in the yurt at the north Alpine Pond parking area.

During this spectacular display, visitors to the Monument will be able to see paintbrush, primrose, lupine, larkspur, and a spectrum of other flowers in meadows, woods, and marshes. Guided wildflower walks will begin at the Point Supreme Visitor Center every day at 10 am and 1pm. The walks, approximately one-half to one hour in length, will cover what is currently blooming or basic wildflower photography.
Friday - Sunday, a variety of family-friendly activities will also be available including "Wildflower Bingo," flower and pollinator crafts, solar scope viewing, games and more.

Visitors can participate in these activities at the Point Supreme area and at the newly opened Family Discovery Center located at the north Alpine Pond trailhead inside the yurt. The Family Discovery Center will be open to the public during the festival and throughout the summer season. All ages are invited to join a ranger and explore numerous hands on activities and exhibits about park animals, bugs, flowers, geology and more! Visitors can also pick up a junior ranger booklet and earn their badge.

To round out the schedule, Cedar Breaks will also host Zion Natl Park Forever Project Field Programs. These in-depth classes include "Cedar Mountain Wildflowers" on July 13, "Wildflower Photography" and "Wildflower Journaling" on July 14 and "Cedar Breaks Geology" on July 21. Please contact Zion Forever at 435-772-3264 for more information or visit their web page at https://zionpark.org/programs/ .

Before you come to Cedar Breaks, consider downloading the "Wildflowers of Cedar Breaks" app. It is great for identifying flowers found at Cedar Breaks National Monument and the surrounding area. The app features over 100 common wildflowers with general information, traditional uses, and fun. The app is available as a free download from iTunes and Google Play. Internet and cell service is limited at Cedar Breaks, so make sure to download the app before traveling up the mountain.

A detailed schedule of festival events and activities, "What's In Bloom" self-guided checklists, and reference lists will be available at the Cedar Breaks Information Center and Family Discovery Center. You can also follow us on Facebook at https://www.facebook.com/CedarBreaksNationalMonument/ or call 435-586-0787 x4031 for more information.