Library Telescope Lending Program Introduced by Cedar Breaks National Monument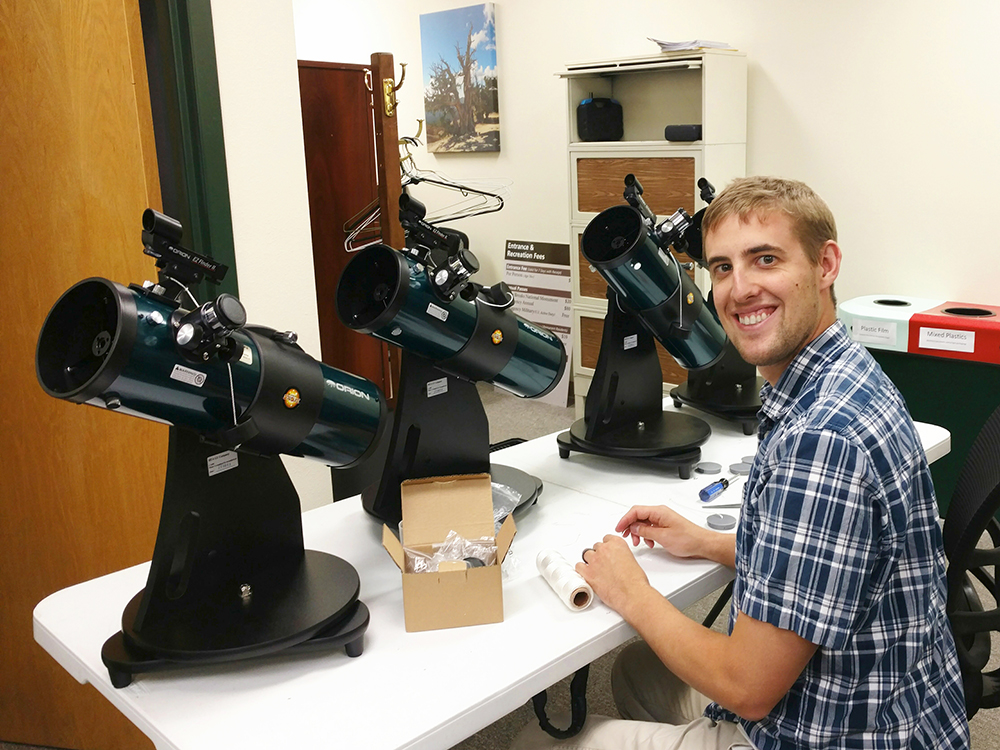 News Release Date:
November 17, 2017
Contact: Zach Schierl, (435) 586-9451 x4429
Contact: Kristen Anderson, (435) 477-3491
Contact: Lauren McAfee, 435-865-4547
Cedar Breaks National Monument, UT – For southern Utah residents, getting a closer look at our night sky will soon be as easy as checking out a book from the library. Cedar Breaks National Monument and local astronomy clubs have collaborated with Iron and Washington county libraries to launch a brand new library telescope-lending program, making it easier for area residents to "reach for the stars".
Telescopes are now available to the public at the Cedar City and Parowan Libraries in partnership with the Southern Utah Space Foundation (SUSF). More telescopes will become available at additional libraries throughout Iron and Washington Counties in the coming months, in partnership with the St. George Astronomy Group and the Grand Canyon-Parashant National Monument. Cedar Breaks National Monument, SUSF, and the St. George Astronomy Group will maintain the telescopes in this program.
Library patrons can check out a telescope as they would a book and enjoy exploring the night sky for a week at a time in their own backyard or other dark place. The telescopes are modified to be user-friendly and are of higher quality than what most backyard stargazer's use. The "StarBlast" 4.5-inch tabletop reflecting telescopes boast quality optics that provide great views of craters on the Moon, Saturn's rings, Jupiter's moons, numerous star clusters, galaxies, nebulae and more. Included with each telescope is an instruction manual, moon-map, pocket guide of the constellations and a night vision friendly red LED headlamp.
Due to increasing light pollution, the opportunity to look at the stars is disappearing across the nation. Despite this trend, Cedar Breaks and Southern Utah still boast some of the darkest skies in North America. With the launch of the telescope-lending program, residents of Southern Utah from all walks of life will be able to get an even better opportunity to look up, question, wonder and explore this especially beautiful resource. For more information on protecting dark night skies, visit
https://www.nps.gov/subjects/nightskies/index.htm
-NPS-
About the National Park Service. More than 20,000 National Park Service employees care for America's 417 National Park sites. Visit our website at www.nps.gov/cebr/,
Facebook https://www.facebook.com/CedarBreaksNationalMonument/ ,
Instagram www.instagram.com/cedarbreaksnm/
Last updated: December 1, 2017