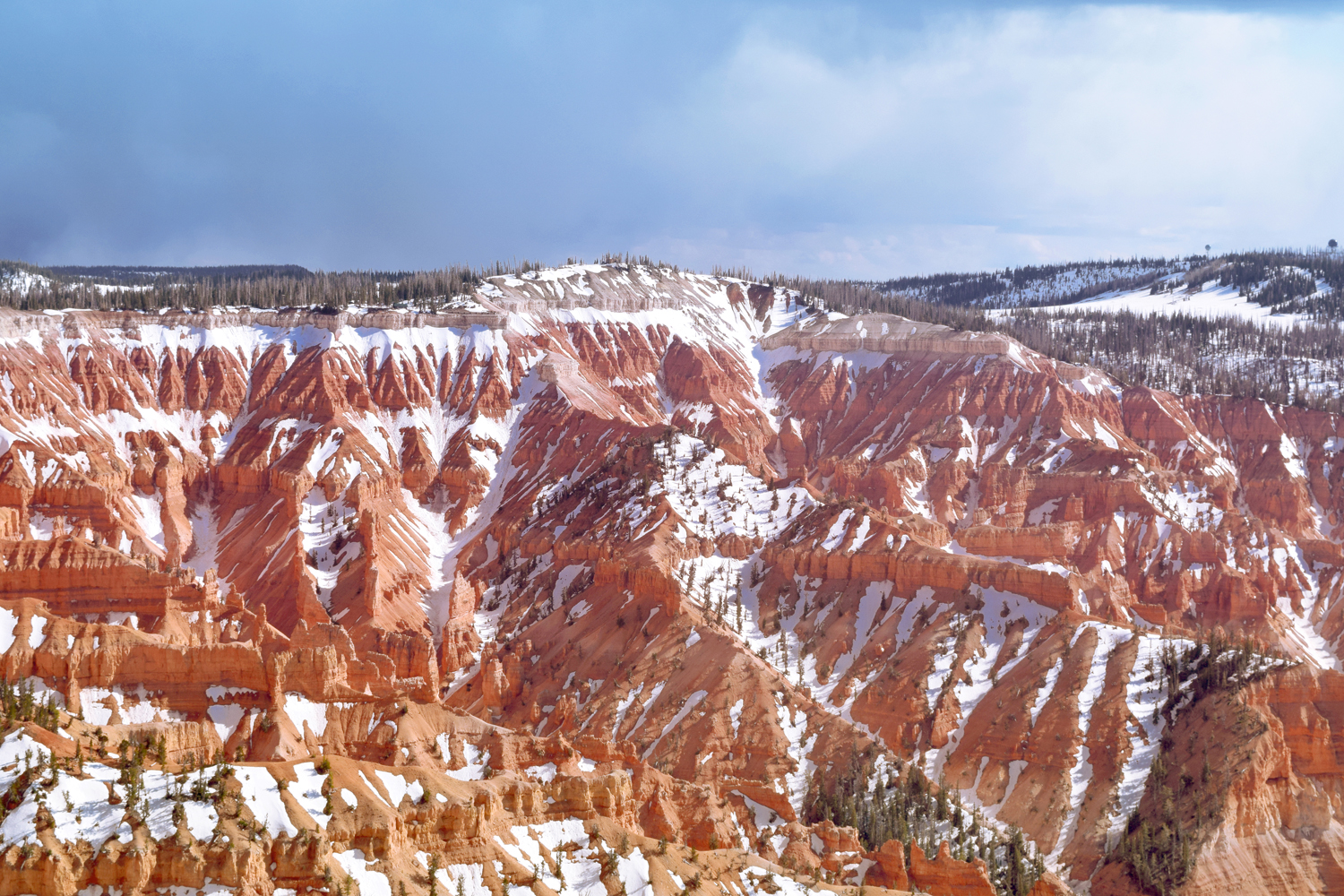 News Release Date:
January 9, 2017
Contact: Ken Watson, (435) 586-9451 ext 4425
Cedar Breaks National Monument Offers Winter Activities and Adventure
Cedar Breaks National Monument, Utah.
Are you ready to discover a whole new park? Each winter Cedar Breaks transforms into a wonderland that many miss out on due to the myth that the park "closes" during the colder months of the year. In fact, after the Scenic Drive (Highway 148) closes to automobiles, a whole new park reveals itself.  
Ranger-led snowshoe walks at Cedar Breaks are being offered on Saturdays beginning in January and continuing through March. These ranger guided snowshoe hikes are especially popular with first-time snowshoers and are a great way to experience the winter at 10,000 feet elevation. The two-mile round trip walks takes snowshoers through meadows and forests with a break at the Winter Ranger Station. Also for the first time ever, Cedar Breaks rangers will be offering guided Full Moon Snowshoe hikes on Feb 11, Jan 10 and March 11. Also, on Feb 18 the Zion Canyon Field Institute (ZCFI) is offering an in-depth guided exploration of the rolling forests and frozen meadows of Cedar Breaks with instructor Kristine Crandall. Kristine will provide hands-on experiences and lead conversations on the ecology, flora and fauna and their survival tactics, of this special area. 
Registration through the Zion Canyon Field Institute (ZCFI)
 is required for this guided hike.  
Snowshoes are provided for all guided hikes at no charge; however, registration is required. To register or for more information, visit
https://www.nps.gov/cebr/planyourvisit/calendar.htm
The snowmobile route through the park is also been groomed and marked. Snowmobiles must remain on the marked route within Cedar Breaks in order to protect park resources such as plants and wildlife. Snowmobilers are reminded to stay alert for other recreationists to ensure a high quality, safe visitor experience for everyone. All snowmobilers are invited to "Ride with a Ranger Day" on Jan 21. Participants will enjoy a free breakfast and learn about responsible, safe (and fun!) snowmobiling techniques.
Check out our park calendar
for more information.  
All winter recreationists are welcome to visit the Winter Ranger Station located in the north part of the park. Volunteers will staff the station on most weekends (weather permitting). Winter recreationists are encouraged to stop by, enjoy some hot chocolate, and learn about the park from the volunteer hosts.  
Last but not least, in cooperation with Brian Head Resort, Cedar Breaks will be hosting three stargazing events at nearby Brian Head Resort. These "Star Parties" are scheduled for January 28, February 18, and March 18 and will be held at the Navajo Lodge. Parties begin with a short presentation, followed by a ranger-led constellation tour and telescope viewing of deep-space objects. Star Parties are free and no reservation is needed to participate, everyone is encouraged to dress for very cold conditions. Hot chocolate will be available at no charge.  
Questions about winter activities may be directed to the park's headquarters office in Cedar City at (435) 586-9451 or
e-mail us
. Event information is also posted on the Cedar Breaks website at
https://www.nps.gov/cebr/planyourvisit/calendar.htm
Visitors can also follow us at happenings by
following the park Facebook page.