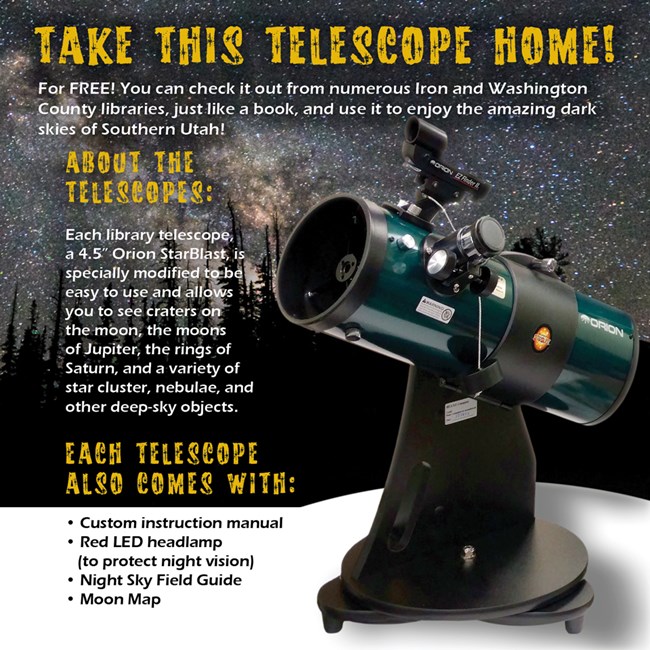 In 2017, Cedar Breaks National Monument launched a Library Telescope Program in partnership with local astronomy societies and public libraries. Now, residents of Iron and Washington counties can check out a high-quality telescope from their local library, just like a book, and use it to enjoy the amazing dark skies of Southern Utah.
About the Telescopes:
Each library telescope is identical: a 4.5" Orion StarBlast Reflecting Telescope that is specially modified by Cedar Breaks Rangers to be easy to use and endure bumps and bruises. The 4.5" mirror allows you to see craters on the moon, the moons of Jupiter, the rings of Saturn, and a variety of star cluster, nebulae, and other deep-sky objects.
Each telescope also comes with:
• Custom instruction manual
• Red LED headlamp (to protect night vision)
• Night Sky Field Guide
• Moon Map
To ensure a quality experience, each telescope is checked and maintained by dedicated "caretakers," usually members of local astronomy clubs.
PARTICIPATING LIBRARY:

STATUS:

CARETAKER:

IRON COUNTY

Available now

Available now

Cedar Breaks Nat. Mon.

WASHINGTON COUNTY:

Available now

Available now

Available now

Available now

Available now

Available now

Available now

Available now