Cedar Breaks Library Telescope Program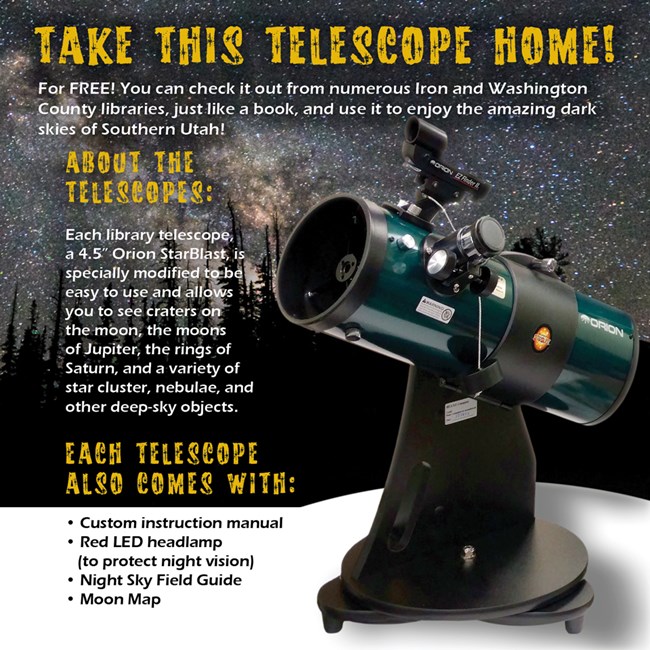 In 2017, Cedar Breaks National Monument launched a Library Telescope Program in partnership with local astronomy societies and public libraries. Now, residents of Iron and Washington counties can check out a high-quality telescope from their local library, just like a book, and use it to enjoy the amazing dark skies of Southern Utah.
About the Telescopes:
Each library telescope is identical: a 4.5" Orion StarBlast Reflecting Telescope that is specially modified by Cedar Breaks Rangers to be easy to use and endure bumps and bruises. The 4.5" mirror allows you to see craters on the moon, the moons of Jupiter, the rings of Saturn, and a variety of star cluster, nebulae, and other deep-sky objects.
Each telescope also comes with:
• Custom instruction manual
• Red LED headlamp (to protect night vision)
• Night Sky Field Guide
• Moon Map
To ensure a quality experience, each telescope is checked and maintained by dedicated "caretakers," usually members of local astronomy clubs.
PARTICIPATING LIBRARY:

STATUS:

CARETAKER:

IRON COUNTY

Available now

Available now

Cedar Breaks Nat. Mon.

WASHINGTON COUNTY:

Available now

Available now

Available now

Available now

Available now

Available now

Available now

Available now
Why a Library Telescope Program?
Due to increasing light pollution, the opportunity to look at the stars is disappearing across the nation. Despite this trend, Cedar Breaks and Southern Utah still boast some of the darkest skies in North America. The idea of a library telescope program was pioneered by the New Hampshire Astronomical Society starting in 2008. Cedar Breaks was designated as an International Dark Sky Park in 2017 and launched the Utah program as part of a commitment to raising awareness about the importance of protecting dark night skies.

The Library Telescope Program helps make the wonders of the night sky accessible to everyone, even those who don't own a telescope. Visit a participating library, take home a telescope, and enjoy exploring our beautiful night skies with your friends and family!

Curious to learn more about the night sky? Join us for a summer star party at Cedar Breaks National Monument, or sign-up for our Master Astronomer Program.
For More Information:
For more information on this history of Library Telescope Programs, visit the New Hampshire Astronomical Society's website at: http://nhastro.com/ltp.php
Or, check out this article featured in Sky & Telescope magazine:
http://www.skyandtelescope.com/observing/stargazers-corner/library-telescope-program-update/
If your library is interested in participating in the program, please e-mail us !
Last updated: April 30, 2018