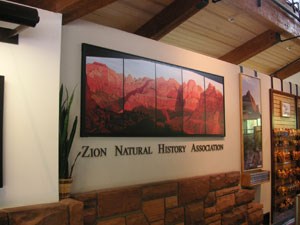 Zion Natural History Association
The Zion Natural History Assocation operates a bookstore, located inside the Cedar Breaks Visitor Center. A wide variety of books and souvenier items can be purchased from 9:00 am--6:00 pm daily during the summer season.
The Zion Natural History Association (ZNHA) is a non-profit organization established in 1929 to support education, research, publication, and other programs for the benefit of Zion National Park, Cedar Breaks National Monument, and Pipe Spring National Monument. Financial support by ZNHA members combines with the sales from the park bookstores to provide the parks with approximately $600,000 in aid annually.
The Zion Canyon Field Institute (ZCFI), provides dozens of hands-on one-to three-day seminars each year. Click here to learn more about the seminars offered.
The mission of ZNHA is to provide financial support and educational services that support interpretation of the natural and cultural resources of southern Utah and northern Arizona, with an emphasis on Zion National Park, Cedar Breaks and Pipe Spring National Monuments and their visitors. To learn more about ZNHA, click here.