Ranger Programs
Ranger Programs
Cedar Creek and Belle Grove National Historical Park is once again offering a full-slate of ranger-conducted programs throughout this summer and fall. Programs will be offered on a daily basis from Saturday, June 13 through August 16, and then into the fall, as staffing permits.
These free programs tell the park's many stories related to the rich cultural history of the Shenandoah Valley, its settlement, the Battle of Cedar Creek and the impact of the Civil War on both the local communities and the nation as a whole.
New this year will be the "Battlefield Series" Programs. This series of two hour ranger programs will highlight numerous park sites and resources associated with the battle. Programs in June include "The Valiant Stand of Thomas' Bridge," "A Generation Lost: The Tragic Deaths of Stephen Ramseur and Charles Lowell," and "Gen. Custer at Cedar Creek." Future programs will cover the subjects such as, the causes of the Union collapse on the morning of the battle, the Union defense of the Valley Pike, archeology at Cedar Creek, the afternoon Confederate defense, and many others.
"This new series of programs will offer an opportunity for visitors to explore these topics in a more in-depth fashion," explains Chief Ranger Eric Campbell. "Most of these presentations will also cover topics rarely discussed before and also will allow visitors access to sites and resources normally closed to the public. "The "Battlefield Series" will be offered each Saturday in the summer, at 2:00 pm.
Additionally, the park will also offer its regular slate of ranger-led programs which include:
Presented daily will be Cedar Creek and Belle Grove "in a Box" – a 30 minute overview on the history and settlement of the Shenandoah Valley and the Battle of Cedar Creek.This interactive program, for both adults and children, uses various props (taken out of a box) and the surrounding landscape features to "create" and tell the park's many stories by literally placing visitors "in the middle of the park." Offered daily at 11:30 a.m. (Sundays at 2:30 p.m.) on the front lawn of Belle Grove.
Battle of Cedar Creek Tour
A two-hour guided tour, using a car-caravan system (visitors follow the ranger's vehicle), will cover the Battle of Cedar Creek in a chronological fashion.This 10 mile tour follows the major events of the fighting and includes approximately 5 or 6 stops at the key landmarks associated with the battle.Tours begin at the Cedar Creek Battlefield Foundation Headquarters (8437 Valley Pike, Middletown). Normally offered four days a week.
"From Back Country to Breadbasket" The Peopling of the Shenandoah Valley
This 30 minute overview program covers the history of the Shenandoah Valley from its creation, through the eve of the Civil War. This program will be presented on the front lawn of Belle Grove.
"To Battlefield and Beyond" War Comes to the Shenandoah Valley
This 45 minute program examines the many military campaigns and battles that occurred in the Valley and their effect upon the local communities. Presented at Hupp's Hill Civil War Park.
The 1862 or 1864 Valley Campaign "in a Box"
These 30 minute programs provide an overview of either the 1862 or 1864 Shenandoah Valley Campaigns. This interactive presentation uses the surrounding landscape features and various props (taken from a box) to "create" the Valley and place visitors "in the middle of the campaign." Meet on the front lawn of Belle Grove.
Middletown Civil War Walking Tours
Discover how the citizens of Middletown lived through those difficult times and how the war impacted their lives. Meet the ranger for a 90 minute walking tour at the intersection of Main Street and First Street, Middletown. Offered at 5:00 p.m. on the 2ndSaturday of each month, June-October. (June 13, July 11, August 8, September 12 and October 10)
History at Sunset
A series of special programs will be presented on select Friday evenings throughout the summer and fall. These tours will cover a wide variety of subjects related to the park's rich cultural history and give visitors an opportunity to see sites not normally open to the public. Explore and learn about some of the many "hidden gems" of Cedar Creek and Belle Grove NHP. Tours will be 60-90 minutes. The program schedule will be released at a later date.
For more information or for the latest schedule call (540) 869-3051 or see:www.nps.gov/cebe
Meet the Interpretive Staff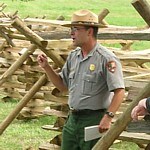 Eric Campbell is the Chief of Interpretation at Cedar Creek and Belle Grove National Historical Park. The 25 year National Park Service veteran served as a park ranger-historian at Gettysburg National Military Park for 20 years, along with previous assignments at Independence National Historical Park and the Eisenhower National Historic Site. He has also authored over two dozen articles and essays for scholarly publications and his book, "`A Grand Terrible Dramma': From Gettysburg to Petersburg, The Civil War Letters of Charles Wellington Reed," was published by Fordham University Press in 2000. Eric's responsibilities include overseeing the planning for future interpretation at the park, including the completion of a comprehensive interpretive plan. He will also develop ranger-lead programs, walking trails, brochures, exhibits, the park website and podcasts.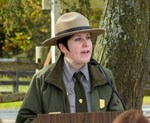 Shannon Moeck is a Park Ranger at Cedar Creek and Belle Grove NHP. After attending the Art Institute of Pittsburgh and spending a decade in Pittsburgh, PA as a music promoter and retail manager, she was ready for a change. She moved back to the Shenandoah Valley and started attending Lord Fairfax Community College in Middletown, VA. Her passion for history was reignited when she took a World Civilization history class. Shannon joined the Cedar Creek and Belle Grove staff as a seasonal hire during the Parks inaugural season of interpretation in 2010. Having completed her dual degrees the Spring of 2013, she is now a full time permanent ranger on the team. Currently her responsibilites include interpretation, Volunteer manager, webmaster, social media coordinator, research, and assisting in helping develop this park.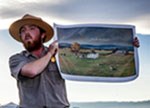 After graduating from James Madison University with his bachelor's in History and Public History, Kyle Rothemich is now attending West Virginia University for his graduate course work in Public History. During his time at the park, Kyle had developed numerous interpretative programs on the history of the Shenandoah Valley, the Civil War in the Valley and the Battle of Cedar Creek. Along the same lines, Kyle aided in the development of interpretative exhibits now displayed in the park's new Visitor Contact Station. Kyle had also conducted original research at the park, and has presented this in special "History at Sunset" programs every summer. Kyle plans to get a permanent job in the NPS after earning his M.A.. Kyle also maintains a blog, chronicling his journey as a Park Ranger and a history student known as "A Historian in Training." http://prospectivehistorian.wordpress.com/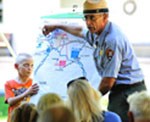 Jeff Driscoll is a 1972 graduate of Washington and Lee University, and has spent most of his adult life involved with education: teaching and coaching tennis; 25 years working as a teacher, administrator, and coach in various independent schools, both in the U.S. and overseas; acting as Director of Education with the Association for the Preservation of Civil War Sites (APCWS); teaching adult education classes in history and German; and since 2008, working as a Park Ranger, first at Harpers Ferry National Historical Park, and now at Cedar Creek and Belle Grove National Historical Park. Also, Jeff occasionally leads tours to Europe, and finally, he paints in watercolors, and has had several solo shows.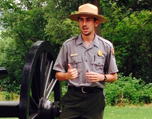 Jimmy Horn graduated from Shepherd University in 2014 with a bachelor's degree in History with a concentration in the Civil War and 19th Century America. He started his National Park Service career as a volunteer at Antietam National Battlefield where he was able to assist in working the Sesquicentennial events. He then spent three seasons working as an Interpretive Park Ranger at Harpers Ferry National Historical Park. There he helped develop and present hundreds of programs to park visitors. Jimmy has now moved up the valley as an Interpretive Park Ranger at Ceder Creek and Belle Grove National Historical Park.
Last updated: May 21, 2016