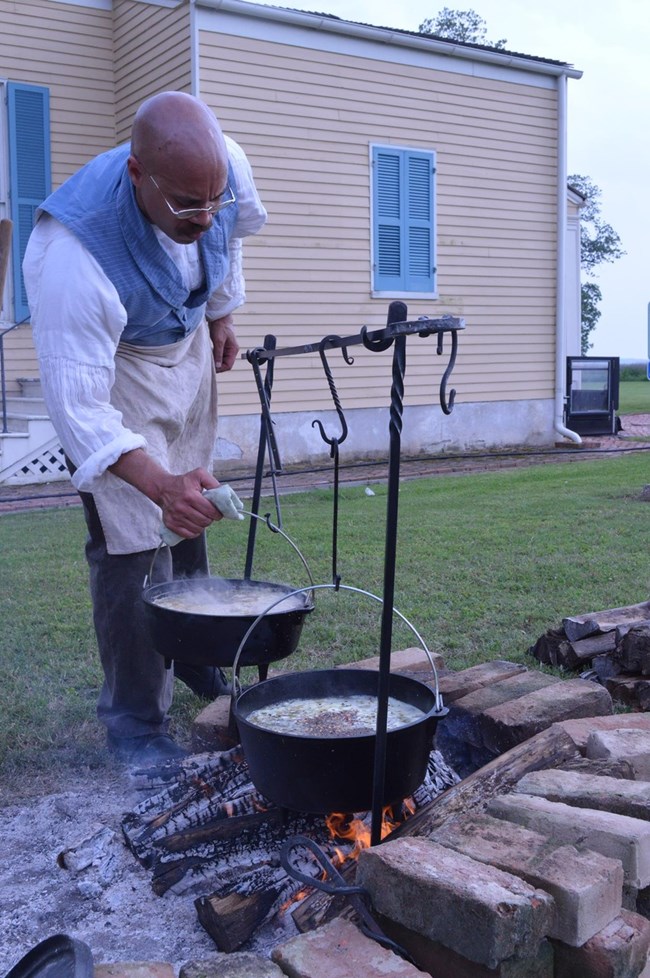 Inalienable Rights:
Free & Enslaved Blacks Crafting A Life In The Shenandoah Valley
Saturday, November 10, 2018
10 am-6 pm
336 Belle Grove Road, Middletown, VA
Belle Grove will honor its African-American history with demonstrations, interpretive programs, and talks. Admission is free of charge.
Belle Grove will present the history and experiences of African Americans at this site and in the Shenandoah Valley through living history demonstrations, talks, and National Park Service ranger programs.
Joining us will be special guests from The Slave Dwelling Project. The day will include hearth cooking, blacksmithing, a presentation by Robin Lyttle of the Shenandoah Valley Black Heritage Project, a talk by The Slave Dwelling Project founder and director Joseph McGill, and "Kneading in Silence: A Glimpse into the Life of the Enslaved Cook Judah" and a 5 pm History at Sunset program "Free at Last: The Complicated Road to Freedom for Emmanuel Jackson" by Cedar Creek and Belle Grove National Historical Park Ranger Shannon Moeck. Please visit www.bellegrove.org for a detailed schedule.
We hope that you will join us November 10 for this event and look forward co-hosting an African-American History program with the Warren–Page NAACP in February 2019.
10:00 am Belle Grove opens
10:30 – 11:00 Not Everyone Was Enslaved: The Freeborn of the Shenandoah Valley
Robin Lyttle, Valley Black Heritage Project
11:15 – 11:45 Hearth Cooking Demonstration
Jerome Bias and Terry James, The Slave Dwelling Project
12:00 – 12:30 Kneading in Silence: A Glimpse into the Life of the Enslaved Cook Judah
Shannon Moeck, Cedar Creek and Belle Grove National Historical Park
1:00 – 2:00 The Slave Dwelling Project
Joe McGill, Founder of The Slave Dwelling Project
2:30 – 3:00 Archaeological Investigation of the Slave Quarter Site at Belle Grove
Matthew Greer, Archaeologist, Syracuse University
3:15 – 3:45 Hearth Cooking Demonstration
Jerome Bias and Terry James, The Slave Dwelling Project
4:00 – 4:30 Kneading in Silence: A Glimpse into the Life of the Enslaved Cook Judah
Shannon Moeck, Cedar Creek and Belle Grove National Historical Park
5:00 Upper Level of Belle Grove Manor House Closes
5:00 – 6:00 Free at Last: The Complicated Road to Freedom for Emmanuel Jackson
Shannon Moeck, Cedar Creek and Belle Grove National Historical Park
6:00 pm Belle Grove closes